Devdas, released in 2002, was based on a 1917 Bengali romance novel by Sarat Chandra Chattopadhyay. As this was the third Hindi film adaptation of the famous story, director Sanjay Leela Bhansali had large shoes to fill – the 1955 film directed by Bimal Roy and starring Dilip Kumar, Suchitra Sen and Vyjayanthimala is often revered as one of the best Bollywood films of all time. With an ultimate star cast of Shah Rukh Khan, Aishwarya Rai and Madhuri Dixit, superb screenplay, stunning sets, gorgeous costumes and fabulous songs, Bhansali more than fulfilled his duty.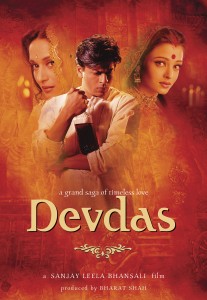 Set in early 20th century Kolkatta, the film is the entangled love story of Devdas (Khan) and Paro (Rai), childhood sweethearts who are torn apart as a result of their families' pride, jealousy and differing socio-economic status. Devdas turns to a life of roaming and alcoholism and falls into the arms of a beautiful courtesan, Chandramukhi (Dixit). However, Chandramukhi's love for him only makes Devdas realize his true love for Paro. It becomes clear, however, that although Devdas is deeply loved by two women, a happy ending is simply not in store.
Aside from Khan's, Rai's and Dixit's impeccable portrayals of their respective characters, Devdas stands out for two other reasons: its sets and costumes, and its music. The film's depiction of India in the early 1900s is breathtaking – the six sets alone reportedly cost around 200 million rupees. Devdas' extravagant mansion, Paro's simple and delicate haveli and Chandramukhi's dazzling kotha made the perfect backdrop for a lavish movie filled with intricacies in both character and story. In conjunction with these sets were the glamorous costumes. Notably, Paro's and Chandramukhi's  lehengas and saris were simply ornate. Eleven years later, we still remember those signature red and white saris from "Dola Re Dola" and Chandramukhi's gorgeous green lehenga from "Maar Daala." Devdas's character was not ignored. From a stylish and suave foreign-returned adolescent to a disheveled alcoholic, Devdas's costumes were always spot on.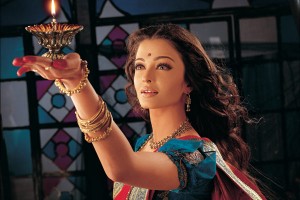 The film's music was composed by Ismail Darbar and also marks singer Shreya Ghoshal's Bollywood debut, who caught Bhansali's attention in an episode of Sa Re Ga Ma Pa and has clearly gone on to see immense success. With the addition of Udit Narayan and Kavita Krishnamurthy, the Devdas soundtrack is one of the most impressive albums of recent times and reached both critical and audience success. Every single song was not only beautiful, melodic and captivating but also accurate to the situations within the movie.  "Dola Re Dola" is arguably the most memorable song of the film. The beautifully choreographed number was a dance duet between Rai and Dixit, for which Ghoshal and Krishnamurthy nabbed Female Playback awards at the Filmfare, IIFA and Star Screen Awards.
Devdas is one of those films that will always be remembered because of the stupendous performances from its leading actors. Khan's portrayal of Devdas is personally what transformed me into an ultimate Shah Rukh Khan worshipper. He plays this flawed yet loveable character with such true emotion that the viewer can't help but get invested into his fate and get drawn into the film. Rai's depiction of the beautiful, delicate and sweet Paro was equally solid and Dixit left a mark on audiences as Chandramukhi. This was Dixit's last film before she took a film hiatus to focus on family.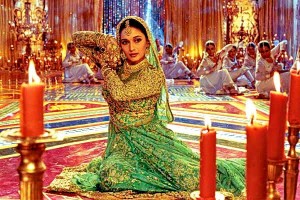 Sure enough, Devdas received both critical and commercial accolades, affirming it success in the Indian market.  The film grossed over 80 crores worldwide and was the highest grossing film of 2002. On the awards front, Devdas swept most major honors (including best film, best actor, best actress and best director) at Bollywood award ceremonies like Filmfare and IIFA.  The movie also garnered international recognition after its screening at the 2002 Cannes Film Festival. Last year, TIME Magazine even named Devdas one of the 10 greatest movies of the millennium, worldwide.
It's easy to see why Devdas should be remembered for the next 100 years. The lavish sets, costumes and jewelry are everything we expect from an ultimate Bollywood film. The acting, the story, the fantastic soundtrack and the drama make the movie a spectacle in the best way possible. In the end, Devdas is an emotional and tragic story of unrequited love. It puts a spotlight on sins like pride, honor, envy and arrogance and how these vices can transform a person, a family and even a journey of love. Devdas is more than a film—it's an epic saga.