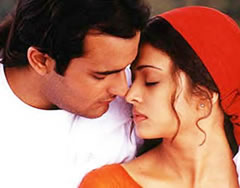 Manav (Akshaye Khanna) comes to India with his family and meets Mansi (Aishwarya Rai Bachchan) the daughter of a singer, Tarababu (Alok Nath) Both the families meet and become friendly. Unbeknown to their families, Manav and Mansi fall in love. However, when Manav's father, Jagmohan (Amrish Puri) comes to know of their romance, he decides to move back to their Mumbai house. He tells Manav that Mansi will not be accepted as she is of a low social status. Eventually, Tarababu learns of Mansi and Manav's love and travels to Mumbai to visit his sister Prabha and meet with Jagmohan. When Tarababu and Mansi go to Jagomohan's house they are treated badly, made to wait in the heat for hours and Tarababu is insulted by Jagomohan which causes him to slap Jagomohan. Manav arrives and comes to know of the situation and insults Tarababu for slapping his father. Mansi tells Manav she does not want anything to do with him anymore.
During their stay with Prabha, Mansi meets with Vikrant Kapoor (Anil Kapoor) a famous music producer who is a big fan of Tarababu's work. Prabha encourages Mansi to sign a contract with Vikrant, after doing so, Mansi becomes a hit sensation. Eventually, Vikrant begins to fall in love with Mansi and Manav comes to apologise to Mansi about the way they were treated but Mansi tells him she is not interested. Vikrant proposes to Mansi and she accepts the proposal even though she does not love him. Manav turns up at the wedding day hoping he can stop Mansi from marrying Vikrant. Vikrant acknowledges Mansi's feelings for Manav and tells her she should marry Manav and they can remain friends. Manav and Mansi receive the blessings from both Jagomohan and Tarababu and live happily ever after.
Taal was very well received and won many awards which included; 6 Filmfare Awards for Best Cinematography for Kabir Lal, Best Lyrics for Anand Bakshi, Best Music Director for A.R. Rahman, Best Playback Singer Female for Alka Yagnik, Best Sound Recording for Rakesh Ranjan and Best Supporting Actor for Anil Kapoor. As well as, 5 awards at The International Indian Film Academy, 1 Screen Award and 3 Zee Cine Awards.
Taal became the first Bollywood film to reach the top 20 on Variety's box office list as well as becoming the top ten grossing film in the United Kingdom the same year.
It was also screened at the Chicago International Film Festival and was the official selection by Roger Ebert for his 2005 Overlooked Film Festival.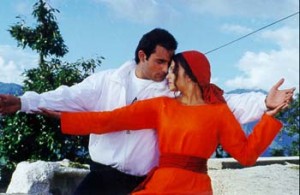 Taal's soundtrack was praised by many. The music was composed by A.R. Rahman and the lyrics were written by Anand Bakshi. The soundtrack became a huge success and made the list of the Greatest Bollywood Soundtracks of All Time. A.R. Rahman managed to receive majority of the awards that year and Subhash Ghai even said, "I credit the name of the movie to composer A.R. Rahman. This movie is a romance and I could have called it anything – Dil, Pyaar, Hum Bhaag Gaye, but it was A.R. Rahman's presence in the movie that gave me the confidence to call it Taal. Taal means music and music means Taal. The whole credit goes to A.R. Rahman and Anand Bakshi. Rahman kept me awake many nights, but after listening to the songs, I felt it was worth all the trouble."
Taal's soundtrack included 12 tracks which all consisted of high energy songs. The groundbreaking album saw Anand Bakshi and A.R Rahman work together for the first time and saw him win a Filmfare Award for Best Lyrics. It is difficult to not enjoy every song in Taal as each evokes deep emotions and feelings.
The song 'Ishq Bina' was actually meant for Subhash Ghai's Shikhar, but the film was shelved and the song was used in Taal.
Shahid Kapoor played a small role in Taal as one of the backing dancers who places the chunni on Aishwarya Rai's head during her performance. It is rumoured that Mahima Chaudhary was meant to play the role of Mansi but was later dropped for Aishwarya Rai.
This was Subhash Ghai's second film out of a trilogy of films he produced focusing on Indian NRI'S abroad, the other two were Pardes and Yaadein.
It seems Subhash Ghai loves product placing Coca Cola in his movies, as Coke is creatively placed throughout this film. When Manav drinks from the Coke bottle and gives Mansi the bottle to drink from too; their love begins to build upon their love of sharing the same coke bottle. His second film, Yaadein also product places Coke throughout the film.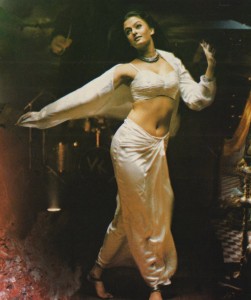 Taal is one of those films that showed everybody what a great actress Aishwarya Rai really is. As well as performing well, her dance performances were beautiful. She fits the role better than Mahima Chaudhury as she carries the natural look and traditional attire well.
Akshaye Khanna was well chosen for this role. His performance as the besotted lover is played well and he is shown in a different light in this film. The addition of Anil Kapoor to Taal provides an edge to the film as he plays the eccentric music producer.
The soundtrack is an important factor in Taal as there are songs every 15 to 20 minutes. They allow the audience to feel Manav and Mansi's emotions through the melodies and lyrics and allow us to witness the power of A.R. Rahman.
Taal is a film that will be appreciated for years to come. It provides brilliant music, a brilliant storyline and it puts together three actors who show us just how talented they are. Anil Kapoor does well to play a slightly different role to what he is used to. Aishwarya allows us to see she is able to justify her skills as an actress when given the right role. Taal entertains in every way. It is a musical phenomenal which takes you on a journey and allows your soul to experience the beat of love.