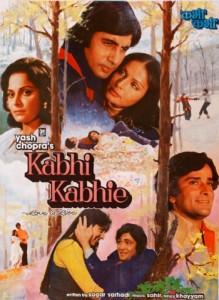 We have an early Christmas treat for all our readers! Below is an excerpt from Bollywood expert Rachel Dwyer's much loved book 100 Bollywood Films (2005), courtesy of 'Palgrave Macmillan on behalf of the British Film Institute.' Rachel Dwyer is Professor of Indian Cultures and Cinema at SOAS, University of London and is the official biographer of celebrated Indian filmmaker; the late Yash Chopra. She has written numerous books, articles and essays on Indian Cinema and is regularly invited to speak on panels as a film expert.
The following excerpt is based on the late Yash Chopra's critically acclaimed Kabhi Kabhie (1976), which is one of the 100 films to have gained a place in this book, which is centred on the greatest films made in Bollywood history. It serves as a perfect introductory text for anyone who wants to explore Bollywood and some of the most alluring films to have ever been made in the industry since its inception in 1913. Or if you are still thinking of what to get your loved one this Christmas, then this is no doubt a perfect gift to get them if you want to convert them into a Bollywood fanatic. So sit back, relax and enjoy reading Dwyer's take on this superb Yash Chopra classic.
Yash Chopra was making Deewaar (1975) at the same time as Kabhi Kabhie and was working with some of the same cast. In Kabhi Kabhie, this included actors who had worked across several decades, from the veteran (Waheeda Rehman), to the very young (Rishi Kapoor and Neetu Singh), with some actors like Amitabh Bachchan and Raakhee playing young lovers and then an older generation.
Amit Malhotra (Amitabh Bachchan) woos Pooja (Raakhee) with his poetry but, in accordance with their parents' wishes, she marries an architect Vijay Khanna (Shashi Kapoor) while Amit goes into the family business. Pooja and Vijay form a happy family with their son, Vicki (Rishi Kapoor), who falls in love with Pinky (Neetu Singh), the daughter of Dr and Mrs Kapoor (Parikshit Sahni and Simi Garewal). The Kapoors and the Khannas discuss the dilemma they face in telling Pinky that she is adopted. Pinky finds her birth-mother, Anjali (Waheeda Rehman), who pretends to her husband, Amit, and their daughter Sweetie (Naseem), that she is her niece. When Vicki arrives, he hides his connection with Pinky and works in Amit's quarry; Sweetie falls in love with him. Vijay brings Pooja with him on a business trip to build a hotel. When he realises that Pooja and Amit were lovers, he laughs it off, but when Amit finds pout that Pinky is the illegitimate child of Anjali and an airforce pilot who died before their marriage, he rejects Anjali. Events come to a head when Sweetie, on discovering that Vicki and Pinky are lovers, tries to commit suicide by heading for the part of the quarry where the blasting is about to begin. She is saved by the concerted efforts of all. Amit suddenly remembers Anjali and rushes back to the house to find her about to leave. The film ends with the marriage of Vicki and Pinky, where the three sets of parents perform the rites and Sweetie is the bridesmaid.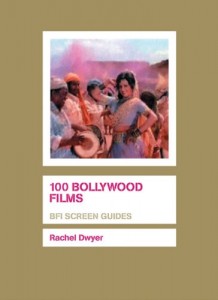 Kabhi Kabhie weaves together two different stories, contrasting romantic love over two generations in the context of love in the nuclear family unit. The first story, the Romantic poet, who cannot free himself from the past, was inspired by the life of the film's lyricist Sahir Ludhianvi, while the second is about adoption and its impact on families.
The theme of family love is very strongly developed here and is used to establish a generational contrast. The happy families are those who place an emphasis on trust and love. The norm is the nuclear family, characterised by great love between husbands and wives, parents and children, whether natural or adopted, the joking relationships of in-laws and the love of friends for each other. The final scene allows Pinky's adopted parents, her natural parents and her new husband's parents to take an equal part in the kanyadaan or the giving away of the bride.
You can purchase a copy of Rachel Dwyer's 100 Bollywood Films (2005) from all good retailers worldwide!
This excerpt has been reproduced with permission from the book's publishers 'Palgrave Macmillan on behalf of the British Film Institute.'