Directed by notable filmmaker Kamal Amrohi, Pakeezah (1972) contains everything one would envisage in a typical Bollywood film. This includes drama, romance, suspense, astounding cinematography, as well as exquisite song and dance sequences. It is a film which surely anyone infatuated with Indian cinema will love. It is also remembered for being one of the last great films to have starred the legendary actress Meena Kumari. She has been dubbed the 'tragedy queen' of Indian Cinema and also set the foundation when it comes to intense method acting. The film began production in the late 1950s, but took 14 years to complete. Due to a rift between Amrohi and Kumari (who were married to each other), filming came to a halt and it was in 1972 that the audience finally saw the beauty that is Pakeezah. These 14 years were no doubt worth the wait!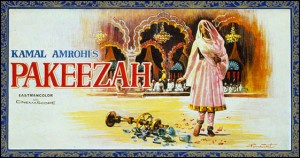 Set in the backdrop of Lucknow, Pakeezah is about a woman named Sahibjaan (Kumari), who is given birth to by Nargis, also played by Kumari in a double role. Nargis dies during childbirth in a graveyard, after having been defamed and rejected by her lover Shahabuddin's (Ashok Kumar) family due to her courtesan background. Sahibjaan is raised by Nargis' sister Nawabjaan (Veena Sapru) and grows up amongst courtesans. She eventually becomes one herself and performs regularly in front of a bedazzled gathering of men. It is in a train compartment where Sahibjaan is asleep that Salim (Raaj Kumar) becomes enthralled by her beauty, especially her hennaed feet. It is at a later meeting where both of them meet each other face-to-face that Sahibjaan and Salim fall in love and want to marry. But wherever Sahibjaan goes, her courtesan identity follows her and she is recognised by passing men in bazaars (markets). Unable to attain the respectability she yearns for, she runs away from her secret wedding to Salim as she does not want her bad name to be associated with him. She agrees to perform for Salim at his wedding to another woman, where her father Shahabuddin is also present. It is here that both father and daughter meet for the first time and the film reaches its gripping climax. I will leave it to the reader of this article to watch Pakeezah and witness themselves how this intelligent and moving story comes to an end.
Pakeezah is a sensational film which will leave you hooked from beginning to end. It is emotionally charged and showcases the stereotypical slurs which a courtesan has to tolerate, despite possessing a 'pure heart' (translation to the title of the film). It can also be included as part of the feminist discourse, since the film deals with female identity and the normative traits which a woman should ideally possess in an Indian context. Furthermore, Pakeezah exhibits the fine aptitude of the Bombay film industry, with its excellent use of colour, lavish costumes and eye-catching grandeur sets. Although some parts of the film are a little unusual, nevertheless, this should not deter you from watching a film which has garnered a lot of critical acclaim over the years.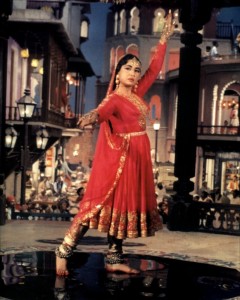 Meena Kumari delivers a phenomenal performance as the leading female protagonist, especially given the circumstances, as she was terminally ill when filming resumed. It is perhaps one of her greatest works along with Baiju Bawra (1952), Parineeta (1953) and Sahib Bibi Aur Ghulam (1962). These are all films which have helped to consolidate her status as the tragedienne of Indian cinema.
Another key highlight of Pakeezah is its melodiously composed soundtrack by the late Ghulam Mohammed. Naushad produced the background music. Immortal classics such as 'Inhi Logon Ne,' 'Chalte Chalte,' 'Mausam Hai Aashiqana' and 'Chalo Dildar Chalo;' all sung by India's nightingale Lata Mangeshkar (the latter song being a duet with Mohammed Rafi); will no doubt mesmerise you. It certainly had an immense impact on people when it first released. The soundtrack to Pakeezah arguably helped to revive the presence of classical Indian music in Bollywood, especially at a time when the audiences' taste in 'filmi' music had shifted from folk and classical to more upbeat and modern music being composed by the likes of R.D. Burman and Kalyanji-Anandji. Having encountered the soundtrack to this film for the first time, it certainly made me more appreciative of such music – especially since I am part of the younger generation. I have come to characterise India and Indian culture with its musical instruments such as the Sitar, Harmonium and the Tabla. Pakeezah is perhaps one of Mangeshkar's finest albums, which demonstrates her eclectic ability as a vocalist.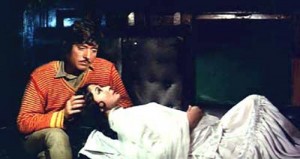 The film was initially a box office flop when it released in February 1972. However, when India learnt of Kumari's death the following month, there was a revival of interest in Pakeezah and it subsequently went on to became one the highest grossing films of that year. It is disappointing to learn that the film did not go on to pick up many awards. However, this is not an issue as numerous film critics and scholars, as well as sections of the media have done an excellent job in keeping the legacy of Pakeezah alive.
More than forty years after its release, Pakeezah continues to stir many people for its humanism, eloquent Hindi-Urdu dialogues and romance. It is one of the most important films to have emerged from Indian cinema; 100 years after the first motion picture was made in 1913. I would strongly urge those who have not yet seen Pakeezah (especially the younger generation) to set aside a few hours of their busy schedule to watch Amrohi's magnum opus. Pakeezah is a story to discover and which will leave a lasting effect on you once it has fully unfolded.