Taare Zameen Par is a story about Ishaan Awasthi (Darsheel Safary), an eight year old boy who dislikes school because he fails in tests and finds certain subjects difficult. His parents, unable to understand why he is not excelling the same way his brother is, send him to boarding school hoping he will be able to perform better. Ishaan feels alone and quickly becomes depressed at the boarding school, although he has a friend, Rajan (Tanya Chheda) who is one of the best students, Ishaan remains in his depressed state of mind. However, things change when Ram Shankar Nikumbh (Aamir Khan) joins Ishaan's school as an instructor for those with developmental difficulties. Ram quickly realises that Ishaan remains quiet in lessons. After reviewing his work he comes to realise that Ishaan is dyslexic which is why he fails to excel as he is not receiving the correct support. Ram visits Ishaan's parents and informs them of Ishaan's dyslexia and of Ishaan's creative ability, but they fail to recognise this and tell Ram this is an excuse for Ishaan's poor performance within the school.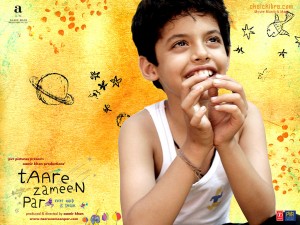 Ram goes on to discuss dyslexia within the classroom and soon begins to tutor Ishaan in a different manner which is developed by specialists. Ishaan soon begins to perform better at school, which is when Ram organises an art fair for the students and staff. Ishaan wins the competition due to his creative style and Ram gets second prize for his painting of Ishaan. Ishaan's parents cannot believe the transformation they see in their son and thank Ram for all his effort and support.
Taare Zameen Par was screened by the International Dyslexia Association and received a standing ovation; the audience was left in tears. It was later dubbed in regional languages of Tamil and Telugu, in which it was renamed Vaalu Nakshatram and Like Stars on Earth for Disney's international DVD.
Taare Zameen Par received many positive reviews; it was considered a work of art. Anuraj Kashyap stated that, "Taare Zameen Par took me back to my hostel days. If you take away the dyslexia, it seems like my story. The film affected me so deeply that I was almost left speechless. After watching the film, I was asked how I liked Taare Zameen Par. I could not talk as I was deeply overwhelmed."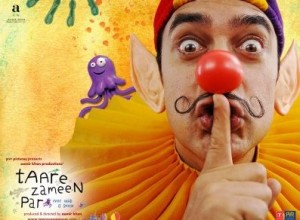 Taare Zameen Par won many well deserved awards. Filmfare gave 5 awards including, Best Director for Aamir Khan, Best Actor (Critics) for Darsheel Safary, Best Lyrics for Prasoon Joshi, Best Story for Amol Gupte and Best Movie. Other awards include 1 Stardust Award, 6 Star Screen Awards, 6 Zee Cine Awards and 3 National Film Awards. Taare Zameen Par's soundtrack included 8 tracks and it seems Maa was a favourite of many as Prasoon Joshi received the National film Award for the Best Lyrics for Maa and Shankar Mahadevan won the National Film Award for Best Male Playback Singer for Maa.
Many protests were held outside PVR and INOX theatres after Khan's critical comments of Chief Minister Narendra Modi and his support for Narmada Bachao Andolan. Many were asking for the boycott of Khan's films and issued statements of how Khan's film would not be screened unless he issued an apology for his comments, this led to INOX boycotting the film.
Real school children were used in Taare Zameen Par and as parts of the filming were taken place during the winter holiday, many children gave up their vacations to participate in the film.  In addition, Assistant Director, Sunil Pandey travelled around India to film documentary style footage of children from various different parts in order to create a realistic feel to the film. Khan felt it was important for the audience to connect to real children, which is why the documentary style footage was shown at the end credits.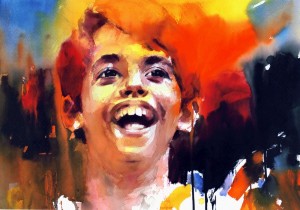 Khan wrote Ishaan's school note books himself using his left hand as he had familiarised himself with dyslexic writing. The film raised awareness of the issue of dyslexia, encouraging parents to discuss dyslexia more openly with their children, teachers and amongst fellow parents. Ten days after its release, the film influenced the Central Board of Secondary Education to provide extra time to special children during exams.
Taare Zameen Par is a film that explores real issues within the world and seeks to address them. It does not shy away from issues which are usually shoved under the carpet but instead it lays them bare on the table for all to see. It shows us what Bollywood is capable of beyond the usual love triangle storylines. It creates an understanding between parents and children, it makes us see how every child is special and every child is different. As Aamir said, "Taare Zameen Par is a film about children and it's a film which celebrates the abilities of children. Taare Zameen Par is a title, which denotes that aspect. It's a title with a very positive feel to it. All the kids are special and wonderful. They are like stars on earth." This alone should be a reason as to why Taare Zameen Par should always be appreciated and celebrated within Bollywood. Even though it focuses on children, it even teaches adults that temporary failure or disappointment should not discourage you from your dreams and there is always a way around things for you and for children. A bold film with a bold message – always one to watch!