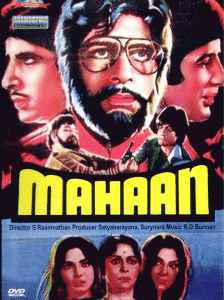 Every major actor and actress in Bollywood will at one stage attempt the double role. It is up there on every distinguished star's curriculum vitae. There a countless examples Hum Dono (Dev Anand), Ram aur Shyam (Dilip Kumar), Seeta aur Geeta (Hema Malini), Apu Raja (Kamal Hassan), Chaalbaaz (Sri Devi), Kishan Kanhaiya (Anil Kapoor) and many many more. In addition to these we have Amitabh Bachchan's own contributions to the double role genre, but to celebrate 100 years of Indian cinema and its great tradition of double roles, we thought we would choose a slightly different film – Mahaan.
A triple role! Now that is is a completely different level and there is only one actor, the superstar of Indian cinema, who has truly attempted and achieved that – Amitabh Bachchan. Father, son and son – that was Mahaan. The father donned a beard, one son a moustache, the other clean shaven. The father was a saintly type figure, one son a stern police office officer, the other a complete comic. Mahaan stretched all the combinations and contrasts it requires to pull off multiple roles.
Released in 1983, for many years children like myself literally believed that there were three Amitabh's who existed in real life and every time he delivered another amazing double role (Aakhree Raasta, Satte pe Satta, Desh Premee) that it was simply one of the other Amitabh's playing the other role!
Just like Southern film remakes are currently in vogue in Bollywood, Mahaan too was one of many South remakes of its time. The film was a remake of hit Kannada movie Shankar Guru, which starred Dr. Rajkumar. The film was produced by Satyanarayana and directed by S. Ramanathan, who passed away in January of this year, having directed Amitabh in several films which included Bombay to Goa, Mahaan, Giraftaar and Zamaanat.
The story followed the classic lost and found narrative, the senior Amitabh separated from his wife and family. The twin brothers separated at childhood and brought up unaware of the others existence. Added to this was a story of justice, revenge and reunion.
Along with the three Amitabhs, were equally three well placed actresses, Waheeda Rahman played the wife of the older Amitabh, whilst contemporaries Parveen Bhabi and Zeenat Aman played the love interests of the Amitabh twin brothers. Joining them were some of top supporting talent of the time – Amjad Khan, Kader Khan, Shakti Kapoor and Aruna Irani.
The music was by RD Burman with all the songs rendered by the voice of Amitabh, legendary Kishore Kumar. In a song which featured both brothers, Kishore's son Amit joined him in the vocals.
The sheer novelty of watching the actor of the day play such contrasting roles was a treat to watch and one which has not really been repeated since. As a triple role, it gave Amitabh a triple opportunity to showcase his talent, where despite the suspense of belief needed with any masala film, you never got the feeling that it is a different Amitabh in each role.