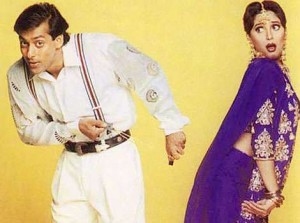 Five years after the success of his directorial debut Maine Pyar Kiya (1989), Sooraj Barjatya made a phenomenal comeback with his next project Hum Aapke Hain Koun (1994) under his family company Rajshri Productions. It is one of the most important films to have released in the history of Hindi Cinema and contributed towards a number of structural transformations within the industry itself, as you will come to discover in this article. Starring Madhuri Dixit and Salman Khan in the leading roles, Hum Aapke Hain Koun is a family-oriented film which also starred Anupam Kher, Reema Lagoo, Alok Nath, Renuka Shahane and Mohnish Behl in pivotal roles. It is based on relationships and how they evolve; whether it is between family, friends or between two people who eventually come to form a more intimate relationship. It contains a masala of romance, comedy, drama, as well as a range of song and dance sequences throughout. Before Dilwale Dulhania Le Jayenge (1995) entered the Bollywood scene, it was Hum Aapke Hain Koun that was the most talked about film amongst the Bollywood frenzied youth during the 1990s.
Hum Aapke Hain Koun managed to accumulate a whopping RS. 1.35 billion at the box office and fast became one of the biggest hits ever in Hindi Cinema. Salman and Madhuri delivered such excellent on-screen chemistry that they were literally sizzling the screen with their unique style of flirting. Moreover, the way in which Sooraj Barjatya has exemplified the Indian family, Indian culture, as well as Indian values on-screen led to the film garnering widespread acclaim within the critics circle. Hence, it is one of few family-themed films that has acquired classic status and is considered to be one of the finest films ever made in Indian Cinema.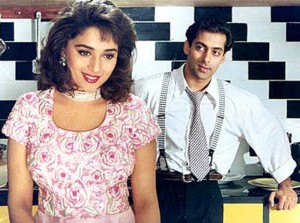 The release of Hum Aapke Hain Koun contributed towards a number of significant changes within the Indian film industry itself, as well as within the film market. The film was on limited release and the makers decided to hand-pick which theatres would be able to acquire the prints. Only theatres which had upgraded its halls and seats were offered the prints to the film. Hence, given the euphoria surrounding Hum Aapke Hain Koun at the time, many owners made the decision to upgrade their theatre so they could profit from the film. This resulted in a radical upsurge in ticket prices, but it did not put the public off from wanting to watch the film. In addition, Sooraj Barjatya was the first ever filmmaker in India to introduce video holdback. This is where a film would be released in cinemas first and then on video a few months later. Before this, a Bollywood film used to be released simultaneously in cinemas and on video. It was due to this intelligent idea, as well as the renovation of theatre halls which contributed towards the return of the Indian middle-classes to theatres. They became too adjusted to watching their Bollywood films at home rather than at the theatres. The release of Hum Aapke Hain Koun brought this social group back to a place where to a large extent; cinema is at its best. Hum Aapke Hain Koun was such an overwhelming hit that the industry came to classify RS. 20 Crores as a blockbuster hit. Before the release of this film, RS. 10 Crore was considered to be the minimum amount a film should make in order to be a blockbuster.
Both Salman and Madhuri deliver great performances as the cheeky Prem and the loveable Nisha. No one could have done justice to these two characters and their attributes have arguably had an influential effect on the audiences over time. The screenplay was also well written and it paints a delightful landscape of the Indian family which one may not have seen before. Hum Aapke Hain Koun won numerous awards during Filmfare season; which included Best Film, Best Director and Best Actress for Madhuri Dixit. It also won the National Film Award for Best Popular Film Providing Wholesome Entertainment. The music to the film by Raamlaxman was also widely praised and he churned out memorable classics such as 'Didi Tera Devar Deewana,' 'Pehla Pehla Pyaar,' 'Mausam Ka Jaadu, 'Mujhse Juda Hokar' and 'Wah Wah Ramji.' The majority of the songs were sung by Indian nightingale Lata Mangeshkar and S.P. Balasubrahmanyam and together, they delivered sensational duets which are greatly appreciated today.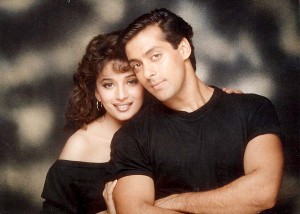 Hum Aapke Hain Koun is a film that will make you appreciate the importance of family and the people who are closest to you. It would be shocking if this film becomes overlooked in the next few decades. Thus, it should be well-preserved so that future generations can witness the magnificence which Hum Aapke Hain Koun has to offer. It won't be a major surprise if people come forward and admit that they have undervalued the prestige of having a mother, father, brother, sister or even a lover in their life. Hum Aapke Hain Koun will reassure you that before anything else in life; family is what matters most!