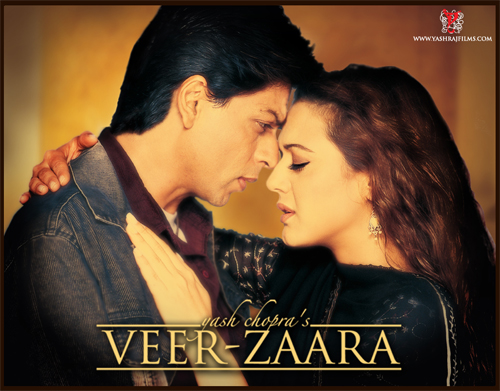 Running time: 192 minutes
Directed by: Late Yash Chopra
Produced by: Late Yash Chopra and Aditya Chopra
Music by: Late Madan Mohan
Cast: Shah Rukh Khan, Preity Zinta, Rani Mukherjee, Kirron Kher, Boman Irani, Anupam Kher, Divya Dutta, Manoj Bajpai, Amitabh Bachchan, Hema Malini
Veer Zaara, which marked Yash Chopra's return to direction after 7 years, is one of the gems of Yash Chopra's numerous love stories. This is the story of Indian Air force pilot Veer Pratap Singh and Pakistani girl Zaara Hayat Khan. Veer and Zaara meet when Zaara comes to India for the last rites of her Sikh governess Bebe. The heroine, as they do, meets with an accident, where Veer rescues her. Here commences Veer and Zaara's beautiful friendship, which transcends romance. Zaara returns to Pakistan with her heavy heart and fiancé Raza (Manoj Bajpayee), back into her aristocratic family. Veer goes to Pakistan to bring his Zaara back, but Raza's political power destroys this divine relationship and Veer is jailed in Pakistan. After 22 years comes lawyer Saamiya Siddiqui (Rani Mukherjee), who takes an oath to revive this love story, which lost its identity in the play of power. This story is not just another love story; it is a story that roots your hearts back to that feeling of belonging to someone. Just when you thought one knows everything about romance, you discover Veer Zaara and their story, which has been penned down and portrayed so beautifully that it adds the feeling that love knows no boundaries.
Talking about characters, each and every actor has played such an important and believable part in making this film stand out. Shah Rukh Khan as Veer Pratap Singh in both his uniform and then later in the jail wins hearts with his performance. He is absolutely legendary as the 'kaidi no.786' (Prisoner no.786), as he narrates his tale to his lawyer Saamiya. You can see his eyes twinkle as he recalls his past. Preity Zinta is one actress who can pull it off as a Kashmiri, Punjabi and here as a Pakistani girl. Beautiful, speaking in Urdu and with eyes that speak, Zaara is a delight to watch even as she portrays the old Zaara. Although Rani Mukherjee is supposed to be a supportive character, she carries the film forward on her strong expressions and brilliant portrayal of a woman who can fight for the right causes. Another character that I would like to point out is Divya Dutta as Zaara's governess Shabbo, who supports her till the end. This character has such a loyal charm to it that one cannot ignore it at all. Boman Irani as the strict father Hayat Khan or Amitabh Bachchan as the Punjabi 'bauji', they have all played such pivotal roles and added colour to this story.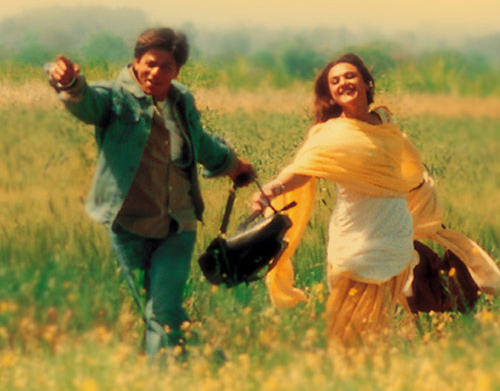 The music of Veer Zaara is still popular on many playlists, and I can say this because it is popular on mine too. For me, nothing matches the beauty of describing love better than 'Tere Liye'. Javed Akhtar's lyrics take beauty a notch higher when they are sung by Lata Mangeshkar and Roop Kumar Rathod. At the same time, the innocence and laughter in 'Hum Toh Bhai Jaise Hain' makes it like this female anthem for any girl who refuses to fall prey to society's norms. 'Lo Aagayi Lohri' is by far the best festive track! The best part about the music of this film is the variety in tracks, making it an ensemble for any emotion that one experiences.
Critical reaction and audience response to Veer Zaara was overwhelming, as critics described it as 'not just a love story, but a message to strengthen bonds between India and Pakistan.' The ratings were nothing less than 4.5 on 5 or 9.5 on 10. The film received response from overseas, as guest reviewer for BBC called it 'a classic regardless of its fate at the box office.' The film received 15 nominations at the Filmfare awards and won awards in best dialogue, best story, movie and lyrics. It won the Best Popular Film providing Wholesome Entertainment at the National Film Awards, various awards and nominations at the IIFA awards as well. This film marked its place in Zee Cine Awards, Stardust Awards, Global Indian Film Awards and many more. It grossed over INR 580 million in India, becoming An All Time Blockbuster of the year. The film was notably successful in United Kingdom, Germany, France, South Africa, Canada and the United States. It earned INR 357.5 million in the overseas market which made it an all-time blockbuster.
Veer Zaara has its own story when it comes to interesting facts, and one of the major factors was Yash Chopra returning to direction after Dil Toh Pagal Hai. The film was originally going to be titled 'Yeh Kahan Aa Gaye Hum' from the song in Silsila, but eventually it was titled Veer Zaara. However, the song 'Yeh Hum Aagaye Hain Kahan' is a twist of the formal title. This film was also the first Hindi film to have a premiere in The Grand Rex, the biggest theater in Paris. There is a book on the making of this film called They Said It, which contains testimonials from the cast and crew of Veer Zaara and also talks about the production of the film. This book released in 2007. Another rare fact about this lovely film was that Yash Raj Music released the entire background music of the film and called it 'The Love Legend themes-Instrumental.' At first, Aishwarya Rai had been approached for the role of Saamiya Siddiqui, but she declined and the role went to Rani Mukherjee.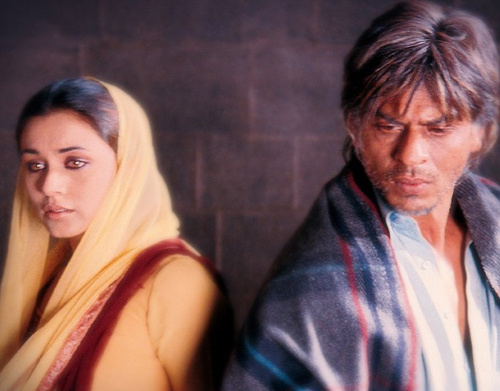 Coming to why I love Veer Zaara, I am sure a lot of people will relate to my reasons. As a Bollywood fan, you can never escape from being a romantic film person. The thing that mesmerizes me the most about this film to begin with is the sync of direction and background music. There are numerous scenes that give you goose bumps and have your eyes go all love struck, as the camera takes a wide shot and there is a lovely background score with it. No one but Yashji could have directed it like that! The performances in this film are so real, so relatable. Zaara's duty towards her family, Shabbo's loyalty towards Zaara, Saamiya's determination or Raza's male chauvinist attitude, they have all been portrayed so classically. This film is complete because human emotions of love, hatred, jealousy, power and loyalty have been kept real on reel. Veer Zaara is a film that will remain a part of one of the best films of Bollywood till eternity because of the multiple messages it holds, be it about loving someone, fulfilling your duty towards your family or the importance of having friendly relations with neighboring countries. With the film we will always remembers its director, the king of romance, Mr. Yash Chopra. We will miss you and cinema like this forever.