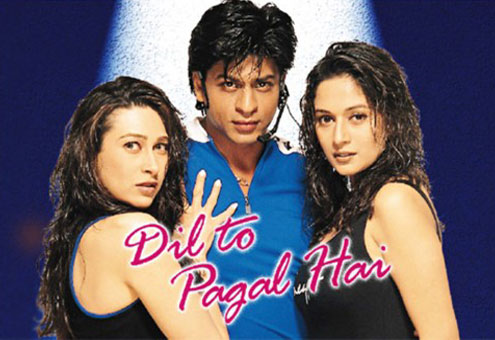 Dil To Pagal Hai revolves around a simple belief, that someone, somewhere is made for you. A beautiful tale of soul-mates, the story revolves around three different characters and their beliefs about love. There's Rahul (Shah Rukh Khan), who does not believe in love and the idea of soul-mates and doesn't really understand how two people can fall in love, let alone be together forever. Pooja (Madhuri Dixit) completely believes in the idea of soul-mates and lives by the statement and belief that "someone, somewhere is made for you". She believes that when she meets her soul-mate, she will receive a message from divine spirits. The third person is Nisha (Karisma Kapoor) and her belief is that love starts as friendship, and that two good friends have the potential to love one another right to the end. Dil To Pagal Hai weaves together the lives of these three individuals, and how they each grow in their notions of love and come to understand what "love" truly means. 
Being an eagerly awaited film by renowned filmmaker Yash Chopra, Dil To Pagal Hai opened to full houses and very good reviews. The superstar cast of Shah Rukh Khan, Madhuri Dixit and Karisma Kapoor made for fresh pairings on screen and helped send Yash Chopra's beliefs about love to one and all. One of the main reasons the film struck a chord with the audiences is its soulful, melodic and super hit soundtrack. The soundtrack of Dil To Pagal Hai became the most popular soundtrack of 1997 with music by Uttam Singh and with the soulful and touching voice of Lata Mangeshkar. The film didn't just experience success at the box office, but was a hit during awards season with a clean sweep in the Actor categories at all major award shows including the Filmfare Awards. The film was also honoured for excellence in music, playback singing, cinematography and choreography.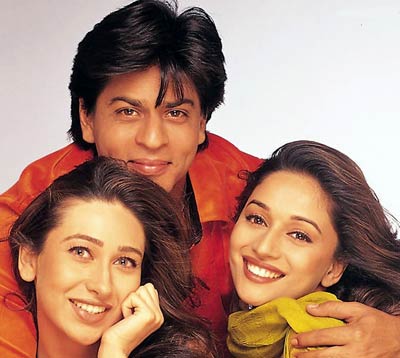 Some interesting facts about the film that most do not know: Juhi Chawla was originally approached to play the second female lead, which eventually was given to Karisma Kapoor. While Juhi has admitted to being offered the role and later turning it down, it is also rumoured that Shilpa Shetty, Raveena Tandon, Kajol and Manisha Koirala were also approached to play the character of Nisha as well. Also, before Shahid Kapoor became a well-known lead actor, he was a background dancer in Dil To Pagal Hai. 
Dil To Pagal Hai is easily one of the films that will be remembered as one of the best films from the late Mr. Yash Chopra. Mr. Chopra was a romantic at heart, and his love for love itself was beautifully expressed throughout this film. What makes this film even more special is that many do believe in the concept of "soul-mates" and it was wonderfully portrayed in the film through a musical. While all Bollywood films are considered musicals, "Dil To Pagal Hai" was special because all three characters were brought together by a theatrical stage production which also explored the idea of soul-mates. The scenes, moments, and plot of the play mimicked what the characters were experiencing in real life, and it was that delicate balance and tightly written script that made the film excel in all levels.