Masala brilliance thy name is personified by Manmohan Desai. Masala filmmaking is that secret ingredient to nearly every film in this wide and bountiful Hindi film industry. Of course, filmmakers disguise these elements in the social message films, the love stories, the thrillers, and countless other genre-pictures. If we want something to break up the tension of love scene, add some dishoom-dishoom, or if you want to cool that down, throw in some smart comedy. The ability to freely mix genres and tropes was expertly done in the juggernaut Amar, Akbar, Anthony (AAA). The late 70s were the beginnings of the Amitabh Bachchan industry and Amar Akbar Anthony marked the partnership between Bachchan and Desai.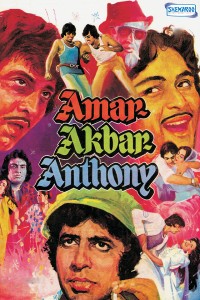 AAA features a 25-minute prologue that stuffs in the three brothers and their parents Kishanlal and Bharati (Pran and Nirupa Roy) as they get torn apart by circumstances. Kishanlal is fresh out of jail for taking the rap for the dastardly Robert (Jeevan at his finest!) who shoos him away and later sends his goons out to kill him. The three brothers are abandoned by their mother, and left under a statue of Gandhi coincidently on Independence Day. The brothers are soon found by a Hindu policeman, a Muslim tailor, and a Christian priest rounding out the secular message early on. Desai works at breathless speed to establish the lost-and-found genre that he would be famous for, and you can forgive this overlong segment because it's just so much damn fun! From Jeevan's brilliantly faltering anglicised accent, to Nirupa Roy suddenly screeching "Mujhe kuch dekhayi nahi de raha!" anything goes for Desai's chaotic vision.
Often the film is praised for its comedy gold and impeccable timing from Bachchan and Kapoor who are mirthful and clearly enjoying their roles. Yet, Desai has a remarkable grasp over the film with its swift editing that ensures that its 3-hour length feels like the quickest and most breakneck time gone by. There are scenes that we can all pick out as being unnecessary like Amar and Lakshmi's (Shabana Azmi) underdeveloped love story or some moments of dishoom-dishoom. However, you cannot fault Desai for having no control over his narrative, since the three leads have ample screen time to kill a scene and do their dialogue-baazi. The editing is crisp, with the cinematography emphasizing the wild colours and expansive sets of Robert's villain lair or the confined spaces of Anthony's bar. Even at the end of the prologue with the three brothers symbolically giving back their blood to their Mother India, they sit outside a window of a temple, a mosque, and a church to demarcate their respective religions while their tubes all feed back into their maa! That's as far as we'll go in intellectualizing this spirited film, because Desai's secular message is inclusive, no one brother is accorded a religious superiority because this didactic point is soon tossed out for more character development.
The three brothers get themselves some gorgeous heroines with Shabana Azmi, Neetu Singh, and Parveen Babi who they romance in their parallel storylines. Unusually, Amar and Lakshmi don't get a solo number, and only participate in the communal romantic number, 'Humko Tumse Ho Gaya Hai Pyar' where she hangs up the washing and he relaxes in a hammock! Vinod Khanna gets to play the reliable straight man to the zany acting that Bachchan and Kapoor emit, and it certainly works to establish his character as the older more responsible brother, who gives Anthony a walloping to set him straight as well. Kapoor is irrepressible as the flirtatious Akbar Illahbaadi and his chemistry with Neetu Singh is utterly cute and fun. Yet, hands down the film is a star vehicle for Amitabh Bachchan to show off his comedic chops in some of the funniest scenes, like talking to himself in the mirror and who can forget his eponymous song. 'My Name is Anthony Gonsalves' is my one of my favourite picturisations ever, from the Mad Hatter-like English verses (the hemoglobin in the atmosphere…intoxicated by the exuberance of your own verbosity!) to Bachchan happily mugging around the room bopping around like the Easter Bunny. The other songs like the juicy 'Parda Hai Parda' or the pop-devotional 'Shirdi Wale Sai Baba' are made into such gems with Rishi Kapoor's energetic dancing and commitment to looking goofy.
You cannot describe the film as anything but fun. It is set the precedent for all masala films to reach the comic heights of the dress-up finale, or the unintentional hilarity of the fight scenes, there's just so much to feast our eyes on. Suspension of disbelief for sure, but Manmohan Desai's did not usher in the 'leave your brains at home' rhetoric we hear these days, each situation is calculated and mined for laughs. Desai may have his situations exploding at the seams with so many characters, plot, and filler yet the film invokes that chaotic and infectious energy that allows Desai to have complete control over his film. The frenetic cinematography and rapid editing ensures that Desai can craft a cohesive narrative with all of his masala mixture. The film is rife with Marx Bros schtick and the actors capture that anarchic spirit so sportingly in the climax song.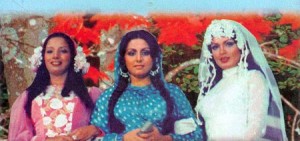 There has been no other movie that can touch AAA's balance of its masala elements because Desai was at the height of his powers with this riotously good material. Desai's oeuvre of Parvarish, Suhaag, Naseeb, Coolie, Mard and others tried valiantly to recapture that elusive balance and recipe of the perfect masala film. While some of these other films are on my list of top favourites, AAA feels like an anomaly. One that is iconic for all the right reasons, that can imitated but never regained. Thankfully any remake rumours have not come to fruition since who can beat the holy masala quartet of a Desai, Khanna, Kapoor, and Bachchan at their peak charm and zaniest.