Jab We Met. Just reading that title makes many a Bollywood fan smile. The 2007 romantic comedy starred Shahid Kapoor and Kareena Kapoor in outstanding performances and was directed by the great Imtiaz Ali. The film was a super duper hit and has gone on to be considered one of the best romance films to come out of Bollywood. This had had had to be on our list of the best of the best!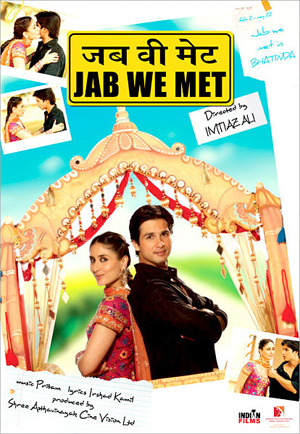 First the story:
We first meet Aditya, a man who runs his father's business with no success, has just lost the love of his life, or so he thought, to another man and is well…completely depressed. He boards a train not knowing where it is going and there he meets Geet, a beautiful but annoying, very, very talkative girl who is leaving to go home to Bhatinda, and then on to elope with her boyfriend.
She annoys him so much, that Aditya gets off the train at a stop and Geet trying to make sure he gets back on the train, gets off the train and they both miss it as it pulls away. Thus begins the journey together to her family home. Many songs and many dances ensue much to the delight of the audience.
They eventually part and then it is Aditya's turn to save the depressed Geet. In case you haven't seen it we won't go on but to say Jab We Met is a beautiful and captivating saga of a made for each other love. Do they end their prem kahani with a Happily Ever After? We bet you can guess!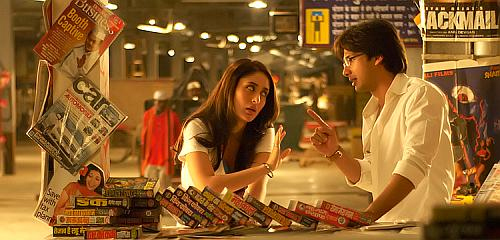 The film had all the perfect moments to make it a splendid Bollywood romance: A hero and heroine with an incredible chemistry that literally shone off the screen played by the perfect pair. A beautiful story that had many twists in the kahaani but also fulfilled all the romantic notes for the perfect love story. A director who knew every shade and tone to include to make it brilliant. The costumes that reflect the characters, Kareena bright and colourful then in muted shades, Shahid in dark buttoned up suit, then that green scarf are another aspect that just adds up to make the perfect Bollywood film. Add in incredible cinematography and killer music by Pritam and you have the magic that is Jab We Met.
Getting to the performances, Shahid Kapoor simply blows you away. Remember Shahid's scene when he is leaving in Manali and he says nothing, but his eyes say everything and he just says Geet. Sighhh. Then when he meets her again, his reaction – he is superb. Or the diversity that Kareena displays first in her just out and out crazy but so real character and then the second half the Geet who has lost her way- brilliant. The two hit every note perfectly and what is so amazing is that they both transform from happy and bubbly to depressed, at different times, but it is done with utmost reality and truth. Truly, two of the finest performances they have ever given.
To give you an idea of how much this film was loved by critics check out what our 4.5 star review said, "Jab We Met is without a doubt the finest work of cinema that has hit the screens since Chak De India. It is not often that you see a movie that is so simple in natural yet so extraordinary. Jab We Met provides this rare moment."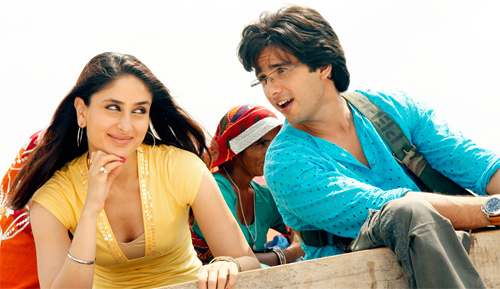 Not only did we love it but critics all over gave the film rave reviews. Subhash K. Jha said, "…there are sparks…and the ones between Kareena and Shahid are so unselfconsciously genuine that you end up looking at the characters rather than the two actors going through a series of brilliantly conceived and energized incidents…" While Rajeev Masand wrote, "Fresher than any romantic comedy you've seen this year Jab We Met works because it delivers what it promises – a snug, heart-warming, relatable love story, indeed a respectable follow-up to director Imtiaz Ali's last film Socha Na Tha." Joginder Tuteja agreed and wrote, "The film is a sheer delight and one that qualifies into 'don't miss this one' category."
As we said earlier, Pritam's music is also a highlight of the film with each song bringing something fabulous! From the fun Yeh Ishq Hai, to the hard hitting and could Shahid look any hotter in the dance sequence Nagada Nagada, to the hit Mauja Hi Mauja, the soulful and moving Aaoge Jab Tum, the lovely travel song Aao Milo Chalo, and my personal favorite the lovely ballad Tum Se Hi each one hit all the right notes.
The film was not only a hit in India but also overseas! One of the coolest things is that it did really well the first weekend but the second weekend saw a huge jump at the box office and it went on to be the biggest hit of 2007. It still is a hit with Hindi film fans. In fact, even just this week I saw many a tweet and Facebook post about how much they loved Jab We Met. So even six years later it is still on the top of Bollywood fans' favorite lists and needless to say one of mine too.
We can easily say that Jab We Met is one of the best romantic films from anywhere in the world. We can't wait to watch it for the nth time to experience this love story again!