We continue our series paying tribute to the 100 years of the magical Hindi film industry. In take two of Framing Movies we shine the light on Salman Khan's Maine Pyar Kiya.
Maine Pyar Kiya revolves around two old friends, Karan (Alok Nath) who is a poor mechanic and Kishan (Rajeev Verma) who is a wealthy businessman. Karan seeks his old friend to ask whether he would be able to put up his daughter in his home while he goes to work abroad in order to earn more money. Kishan complies and agrees to look after Karan's daughter, Suman (Bhagyashree) who is a country girl. Kishan's son, Prem (Salman Khan) becomes friendly with Suman and soon they spark up a friendship. Prem attends a party with Suman, held by his wealthy friends, they insult Suman and state she is out to marry Prem. Left in tears, Suman leaves and Prem comes to realise he is in love with Suman. He eventually sets out to win her heart and succeeds, much to the despair of his father who does not want Prem to marry a poor girl.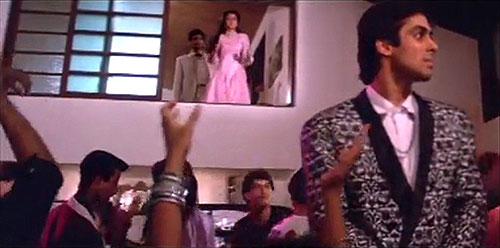 Afraid that Prem will not change his decision, Kishan insults Suman. Karan arrives and witnesses his daughter being insulted, angered by this he returns to his home with his daughter. Prem comes to realise what has happened and goes to Suman's village to ask for her hand in marriage from her father. Karan agrees but with a condition, Prem must earn enough money and prove he is able to take care of Suman by his own efforts and not his father's money. Prem accepts the condition and begins working as a truck driver, when he has earned enough money he sets to return to Karan but is attacked by enemies causing him to lose the money. However, Karan agrees to Prem and Suman's marriage at the same time that Kishan arrives and begs for forgiveness. All ends well as both families accept each other and live happily ever after.
Maine Pyar Kiya was the biggest hit of 1989. It bagged many awards which include, 6 Filmfare awards for; Best Film, Best Male Debut for Salman Khan, Best Female Debut for Bhagyashree, Best Music Director for Raam Laxman, Best Male Playback Singer, S.P Balasubrahmanyam and Best Lyricist for Asad Bhopali.
Maine Pyar Kiya was a blockbuster. It was one of biggest grossing films of 1989. Salman told TOI, "This film made me a star overnight; it made Salman a household name and thus began my journey as an actor and I gained fame, money and popularity. During this film was the best phase of my life."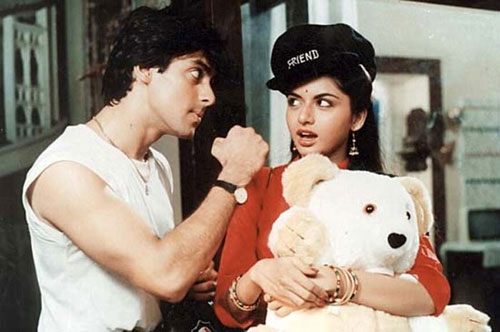 The soundtrack to Maine Pyar Kiya was very successful in India. All the music was composed by Raamlaxman and it included 11 tracks with Lata Mangeshkar singing them alongside S.P. Balasubrahmanyam.
Maine Pyar Kiya was dubbed in English as When Love Calls which was a 125 minute version of the film. It became a huge hit in the Carribean market at Guyana and also dominated box offices in Trinidad and Tobago. It was also one of the first films to be dubbed in Spanish.
Interestingly, Salman Khan and Deepak Tijori were both shortlisted to play Prem in the film. However, Salman eventually won the role and hence became part of one of the most iconic films to have ever been made in Bollywood history. This was Salman's first main role as although he made an appearance in Biwi Ho Toh Aisi, he did not receive any credit as he was not in the lead roles.
Maine Pyar Kiya is a film which shows us the untainted view of love. Salman Khan is presented to us differently; he is innocent, shy and fresh faced. This love story is set in a different era which allows us to appreciate its beauty and innocence. We look back and realise how much the portrayal of love has changed within Bollywood. Maine Pyar Kiya provided us with all we want from Bollywood, that first meeting, the secret glances, the pining for one another and the subtle scenes of passion. It allows us to see how both Prem and Suman love each other yet do not need to have any obvious scenes stating this; their love is shown to us through simplicity. The dance scene on the rooftop, the way Prem tells Suman he felt bad for the way she was treated by Seema but tells her she need not ask why. These scenes evoke love and burst with passion. This is by far one of Salman Khan's best performances, we see him for the first time in a lead role which he executes with so much enthusiasm.
This film deserves to be celebrated as it is one of the few that remain to show us Bollywood's first interpretation of love. It oozes with charm, innocence, passion, chivalry, youth and love. It is Bollywood's own Romeo and Juliet that will forever pluck at our heartstrings.