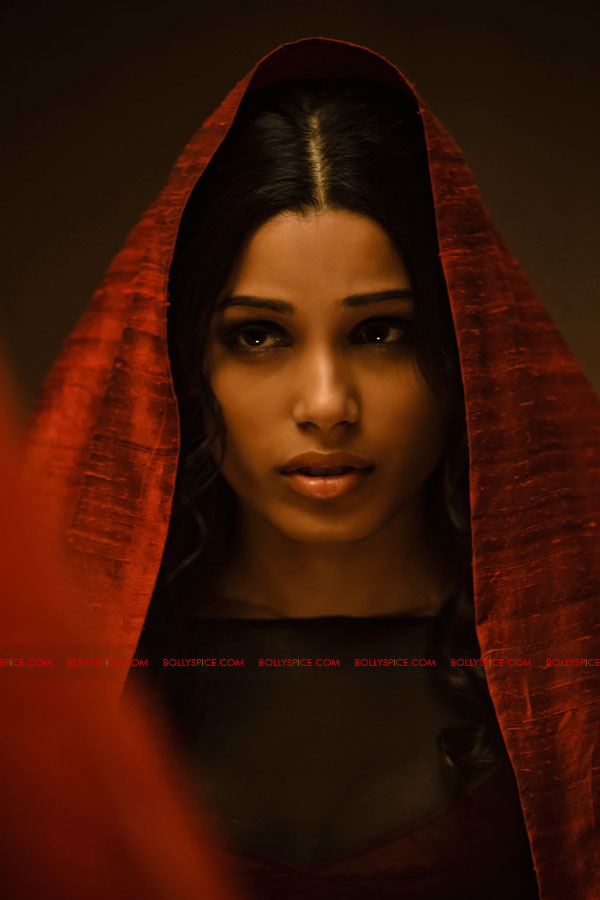 Take a look at an exclusive shot of Freida Pinto as the Sybelline Oracle named Phaedra in the soon to be released movie Immortals. Starring Henry Cavill (Superman: Man of Steel), Freida Pinto (Slumdog Millionaire), Stephen Dorff (Somewhere), Isabel Lucas (Transformers: Revenge of the Fallen), Luke Evans (The Raven, The Three Musketeers), Kellan Lutz (The Twilight Saga), John Hurt (Harry Potter and the Deathly Hallow Parts 1 & 2), and Mickey Rourke (The Wrestler) the film will open in 3D and 2D in theaters on the 11th of November 2011.
About the film
Visionary director Tarsem Singh (The Cell, The Fall) transports us in this epic tale of treachery, vengeance and destiny in Immortals, a stylish and visually spectacular 3D action adventure. As a power-hungry king razes ancient Greece in search of a legendary weapon, a heroic young villager rises up against him in a thrilling quest as timeless as it is powerful.
The brutal and bloodthirsty King Hyperion (Mickey Rourke) and his murderous Heraklion army rampage across Greece in search of the long lost Bow of Epirus. With the invincible Bow, the king will be able to overthrow the Gods of Olympus and become the undisputed master of his world. With ruthless efficiency, Hyperion and his legions destroy everything in their wake, and it seems nothing will stop the evil king's mission
As village after village is obliterated, a stonemason named Theseus (Henry Cavill) vows to avenge his mother, who was killed in one of Hyperion's brutal raids. When Theseus meets the Sybelline Oracle, Phaedra (Freida Pinto), her disturbing visions of the young man's future convince her that he is the key to stopping the destruction. With her help, Theseus assembles a small band of followers and embraces his destiny in a final, desperate battle for the future of humanity.