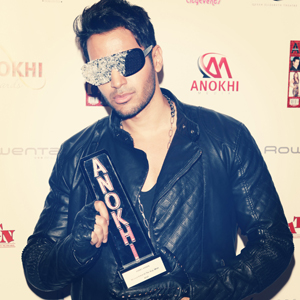 After being named "the next big thing" by HELLO! Magazine and MTV India, headlining at the TOIFAs (Times of India Film Awards), touring with the likes of Shahrukh, Priyanka and Shreya Ghoshal, and being snapped at Elton John's parties, we have all come to expect the bigger and better when it comes to Abbas Hasan.
The young star has started 2014 with a bang as he jetted off to Toronto to perform at the glitzy Anokhi Media11th Anniversary event. The star-studded evening held at the Queen Elizabeth Theatre in Toronto, and supported by Johnny Walker and Biotherm, featured prominent Asians from around the world. Abbas headlined the show with an explosive performance and was then honoured with the "Artist of the Year" award.
About receiving the Award Abbas says: "This means so much to me. It's such a huge honour to be named 'Artist of the Year'. The fact that this is happening back home in Canada makes it so much sweeter. It's been an incredible year, and it's amazing to sum up all those experiences in this award. I want to thank all the wonderful people at Anokhi Media, my amazing 'Team Abbas' around the world, my management, my dancers and of course my mentor and producer Rishi Rich. It's all about the team. We did it Habibis!"
On the red carpet, the NOOKA New York brand ambassador also dispelled rumours that his new project would star Freida Pinto or Mahira Khan. Abbas said: "It's definitely neither of them. But get ready, because I have one word for you: big. You'll be hearing announcements soon!"
The event featured prominent and influential Asians from Hollywood to Bollywood, and everywhere in between. Abbas also made it onto the Anokhi List which also honoured Miss America Nina Davuluri, YouTube phenomenon Superwoman, 'House of Cards' TV series actress Sakina Jaffrey, 'Heroes' TV series actor Sendhil Ramamurthy and editor of the Huffington Post, Jimmy Soni among others.
Asked about recent reports and tweets that some established UK artists have been copying or inspiring themselves from his photo-shoots and conceptual videos, or blatantly seeking the same creative teams that Abbas discovers for his own projects, Abbas says:"I don't really worry about all that. My intention when I entered this industry was to help raise the bar and the quality of what's being done. If certain artists want to copy my concepts or inspire themselves from my work, I take that as a compliment because that means I'm forcing people to work harder and think outside of the box."
With the Artist of the Year award to add to his achievements, it's no surprise Abbas is being hailed as a trendsetter in the Asian music scene. His next project is said to be well under way and announcements will be made soon.
Twitter: @abbashasanmusic
Facebook: facebook.com/AbbasHasanOnline
Instagram: abbashasanofficial