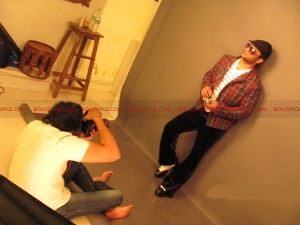 A fitting three piece Armani suit. A Franck Muller watch. And a pair of Tag Heuer glasses. Boy does he cut a striking pose! And it's not just us saying that. It's the opinion of the man conducting the photo shoot. "He looks great on camera. I've shot Sachiin a few times now and its been a great experience. The guy is one of the most humble people I know. And because he looks so good on camera, it rubs off well on me too," says Harpreet Baccher with a smile.
Harpreet is Sachiin's chosen photographer and good friend. "I've known Harpreet for a while now. He's an awesome guy and one of the first people I run to when I need advice. He's been an ever present in my Bollywood journey so far," says Sachiin Joshi.
Undoubtedly a friendship to treasure. And boy is Harpreet a valuable source when it comes to getting information on Mr. Joshi. "Sachiin is one of the biggest shopaholics I know. From shades to clothes, this guy is an avid collector. If you run through his closet, you'll find brands like D&G and River Island. When you ask him where he picked the latest pair up from, he'll reply with a look of incredulity. It just implies that he doesn't know the answer. His philosophy is simple – If you like it, buy it. The rest is history," reveals Harpreet.
Sachiin laughs on hearing these accusation thrown at him. "Harpreet is exaggerating. Check the brands that this man has on him and you'll be left amazed. It's quite ironic that he shares such a story about me," replies Sachiin. Well we can't be sure of the truth.
But boy do these guys have a go at each other. In between the jokes is mutual appreciation and a strong bond between to men who do their jobs brilliantly. There isn't much more to be said, is there?