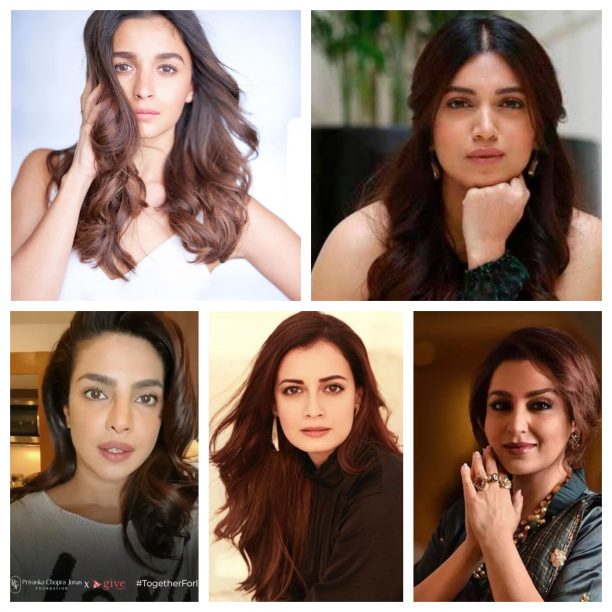 India is fighting an unprecedented COVID crisis with this devastating second wave of Covid-19. Many celebrities have come forward to do their bit to help India have contributed money, used social media to raise awareness and try to get people help, and to raise funds.
We wanted to shine a light on a few few actresses that are trying and helping to fight the crisis however they can.
Alia Bhatt: Alia Bhatt has partnered with the popular journalist Faye D'Souza to gather all relevant information on Covid – 19 and send it out to people through her social media handles so that our community gets the right information on this unprecedented crisis and is prevented from fake and useless rumours around it that will help us act wisely.
Tisca Chopra: Actress Tisca Chopra was one of the first celebs to announce help to our Covid warriors on her Instagram handle. Now she has gone all out and taken the initiative to distribute Behrouz Biryani food packets to 300 staff at Cooper hospital in Mumbai. An act that brought a smile on the tired medical heroes faces and motivated them to work even more diligently.
Sushmita Sen: Actress and former Miss Universe is doing her bit to help fight the crisis. She recently sent oxygen cylinders to Delhi hospitals from Mumbai as we are fighting a shortage of oxygen supply. This was an initiative to save as many lives as possible and to reach the needy in time.
Bhumi Pednekar: The Saand ki Aankh actress Bhumi Pednekar who is a Covid patient herself and has recently recovered, took to her Instagram handle to help people with medical supplies. She also mentioned that she would verify help requests herself and filter fake requests so that help goes out to those who are in genuine need.
We also have Priyanka Chopra who is working with Give India to raise funds. Check out her Twitter posts too!
Dia Mirza as well is using the power of her social media to help
Also contributing are Vidya Balan, Deepika Padukone, Hema Malini, Sonam Kapoor, Katrina Kaif, Anushka Sharma, Kajol, Shabana Azmi, Kareena Kapoor Khan, Tahira Kashyap and Kirron Kher, even while battling her own health struggles, plus many more.
Of course, the men of the Indian film industry have stepped up too particularly Sonu Sood, and Farhan Akhtar. Joining the fight are also Akshay Kumar, Salman Khan, Saif Ali Khan, Ranveer Singh, Ayushmann Khurrana, Anupam Kher, Varun Dhawan and Shah Rukh Khan and so many more.
Also many, many Hollywood celebrities have raised awareness and contribute funds so be sure to check out their posts and the recent Jay Shetty sponsored Help India Breathe fund raiser.
This is of course not an exhaustive list!
There are so many ways to help, even with social media posts and retweets and if you can please do!