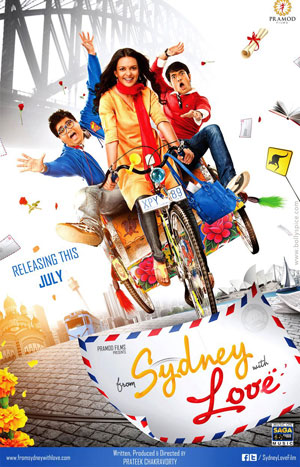 From Sydney With Love is the Golden Jubilee revival project for Pramod Films – the production house known for films such as Ziddi, Love In Tokyo, Nastik, Deedar and Barood. The film marks the film debut of production house head Pramod Chakravorty's grandson Prateek, who  also wrote and directed the film. From Sydney With Love also stars newcomers Bidita Bag, Sharad Malhotra, Evelyn Sharma, and Karan Sagoo.
The soundtrack has been handed to up and coming It Kid, Sohail Sen, to oversee, fresh off his successful foray into mainstream Bollywood with the hit soundtrack for Mere Brother Ki Dulhan.
Sohail Sen is seemingly going from strength to strength – and it makes me super excited for the Ek Tha Tiger soundtrack! His work on the FSWL album errs on the the side of just edgy enough to keep it interesting, but not so experiemental to alienate a mainstream audience. In short: dude knows what he's doing.
Feeling Love In Sydney opens with the uniquely Aussie sound of didgeridoos, soon overlaid with futuristic electronic bleeping, before guitars kick in, strumming in a distinctively r'n'b rhythm. It sounds like a mixture of elements that probably shouldn't work together – but they gel all too easily into a hypnotically mellow desi r'n'b / hip hop track, with a repetitive, smooth chorus,  none other than the man behind the album, Sohail Sen, crooning "come feel the love in Sydney, come fall in love in Sydney!" Roshni Baptist's backing vocals deserve acknowledgement too.
The Remix by DJ Rayaan avoids the all-too-common trap of just adding a few more beats to make it danceable and is an ACTUAL remix, mixing in samples of dialogue and transforming the hip-hop/r'n'b original into a pumping trance-dance track.
Mohit Chauhan's reliably gorgeous voice anchors the soaring ballad Ho Jaayegaa. There's nothing overly flashy or in your face about this pretty track – but there's a bit of texture and depth to the layers of rhythm and instrumentation – from the soft strumming guitar, to the barely perceptible handclaps in the percussion, the twining vocals in duet with Monali Thakur's lovely contrasting voice, that combine into a sweet, breezy melody.
There's a Remix on the album, which actually in this case seems a bit superfluous. It just feels a bit weird to hear such an initially pretty song turned into a thumping dancefloor anthem with all the electronic bells and whistles. It's not terrible, just a weird juxtaposition with the original (which I obviously prefer).
Khatkaa Khatkaa brings some bhangra into the proceedings, with Mika on the mic, plenty of dhol and those familiar shoulder shaking beats! We're not going fully old school  though – the arrangement makes room for a low key thread of electronica to run through the song – it starts off with techno sirens, and every now and then you can pick up the synths that run very subtly underneath the bhangra beats. Upbeat, but if you've heard a bhangra song, you know what to expect.
The steady, thumping backbeat that forms the backbone of the incredibly gorgeous Naino Ne is a wonderful contrast to the fragile beauty of the rest of the song. Ethereal vocals from Palak are contrasted with verses from Mohammed Salamat, as an absolutely beautiful melody builds and shimmers around them. This song comes as close to recreating what its like to fall in love as I've ever felt. Absolutely stunning. 
A dance track with a definite kind of retro rock vibe, Item Ye Hi Fi has a kinda sexy, grungy beat that straddles pop and rock and a definitely catchy chorus. Neeraj Shridhar is at the mic for this one: and it's a quick, grungy dancefloor trip! 
The final track, Pyaari Pyaari, is the result of teamwork – written and composed by Sohail Sen, Thor Patridge and Nabin Laskar. It has a refreshing reggae feel to it, and I have to tell you – it's genius.  Kicking off in Bengali, courtesy of vocalist Brooklyn Shanti and with added vocals from Sohail Sen, this track is the epitome of mellow and summery, and totally addictive – the rhythms and harmonies just sound amazing, and the sum of the parts is: you don't want it to end. Ever.
All in all, the From Sydney With Love soundtrack album is a sweet and solid listen, with at least two standout tracks: the warm, sunshiney Pyaari Pyaari and the gorgeous Naino Ne. Definitely worth a spin.