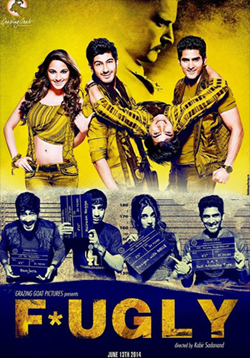 Fugly is an upcoming comedy starring Jimmy Shergill, Mohit Marwah, Kiara Advani, Arfi Lamba and Vijender Singh in the leading roles. Directed by Kabir Sadanand, the film is scheduled to release on 13 June 2014, after having suffered from delays. The music to Fugly has been composed by Prashant Vadhyar, Yo Yo Honey Singh and Raftaar. The lyrics have not only been written by the former two, but also by Arshia Nahid, Niren Bhatt and Sumit Aroraa. So is the soundtrack to Fugly worth your time? Read on to check out our thoughts on it!
First up we have the title track 'Fugly' sung, produced and written by the one-of-a-kind Yo Yo Honey Singh. The music has a hip-hop style to it and there are also some techno elements incorporated into the song also. To be frank, I wasn't impressed by this one and it was just cringing to listen to throughout. The composition needs radical tweaks to it in order to make it more engaging to listen to.
Next is 'Dhup Chik,' by Raftaar, Aastha Gill and Badshah. The song has a desi feeling to it and there are a number of instruments to look out for such as the drums, electronic keyboard and a splash of bass also. Though there is nothing special about it, the song is still worthy of a listen so do check it out and see whether or not you agree with me.
'Banjarey' is next and has been performed, produced and written by Yo Yo Honey Singh. I like how the song kicks off with some lovely strumming of the guitar. This then flows as the song builds up with other instruments being thrown in also such as the violin and some bass also. The vocals by Yo Yo Honey Singh are also cool and he gives the song a nice feel to it. Definitely do give this one a listen as its one of the big highlights of the album and also much better than the title track 'Fugly.'
Following this is 'Good in Bed' by Prashant Vadhyar, Rajiv Sundaresan and Sunaina Sarkar. This one was a bit too wacky for my liking and I don't think I will bother listening to it again. It was silly, poorly performed with a disappointing composition also. There's nothing to amaze you about it so do yourselves a favour and skip it.
Next is 'Dhuaan' by the amazing Arijit Singh and Pawni Pandey. I love Arijit's melodious voice in this particular song and he performs with immense passion; giving it a melancholic feeling. Though the composition was a bit irregular, I think it's something different and may well appeal to the masses. Check it out and hear for yourselves!
We also have 'G Pe Danda,' by Aman Trikha, Pawni Pandey and Prashant Vadhyar. I personally didn't warm to this song and this is due to its amateurish quality. I found myself daydreaming mid-way through the song and I think you will end up doing the same too. Hence, give this one a miss!
Finally there is 'Lovely Jind Wali,' which has been sung by Pawni Pandey, Santokh Singh and Prashant Vadhyar. I sort of found myself enjoying the use of the dhol drum which gives the song a strong Punjabi feeling to it. However, the vocals and the majority of the composition were run-of-the-mill in general and I don't think it will grow into a popular hit. Sadly, it had some potential to be a better and catchier number!
Before putting this review to bed, I will say that there is nothing to be amazed by with the soundtrack to Fugly. The only highlights of this album were 'Banjarey' and 'Dhuaan,' both of which were well performed and contained some nice sounds also. As for the rest of the tracks, they were weak in terms of composition and also lacking in energy. Unfortunately, this album just steered in the wrong direction!