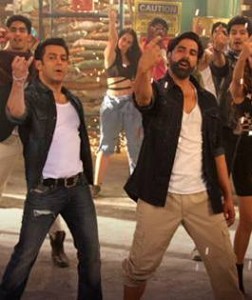 Within 5 days of it's release, the title track of Fugly, directed by Kabir Sadanand and produced by Grazing Goat, the song starring Salman Khan and Akshay Kumar along with the new star cast Mohit Marwah, Vijender Singh, Kiara Advani and Arfie Lamba, the song has taken the internet by storm. The song has got over 15 lakhs views across these 5 days over the internet.
The song 'Yeh Fugly Fugly Kya Hai', went viral within hours has also emerged as one of the most searched videos in recent times. Besides the insane number of views, various groups and individuals are making their own home videos and uploading the same….Two of the links are attached here below to showcase the craziness that this video has created….Individuals are adapting their versions to the song including a Chipmunk version that has gone viral.
Commenting on this the director of the film, Kabir Sadanand said, "Its a great feeling to see your creation get reactions the way we are getting. The song has been a favourite from the day my good friend Honey made me hear it in Delhi."
Here is a talented musician who knows what the audiences would like…look out for the rest of the album with two more songs by Honey and 4 others by talented composers like Prashant Vadhyar and Raftaar.
Fugly will release on June 13th 2014.