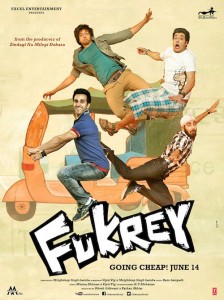 Fukrey, loosely translated as 'losers' or 'good for nothings', is produced by Farhan Akhtar and Ritesh Sidhwani's Excel Entertainment. So instantly you can expect high production values, good content and something fresh. Add to this an almost entire cast of newcomers, makes you think that there must be something very special about this film, which made Farhan and Ritesh invest in it. So what was it and was it worth it? Read on to find out…
Directed by Mrighdeep Singh Lamba, who previously directed a not so impressive Teen Thay Bhai, Furkrey is definitely a comeback film for him. Set in Delhi, Fukrey very much has that north Indian feel that recent films like Vicky Donor and Band Baaja Baaraat had. The story, written by Vipul Vig, follows the aspirations of three young guys dreaming of making it into university for that very reason many of us wanted to – the girls! However, in an exam results and academic fees driven world, the guys need to find ways to overcome those hurdles. The shortcuts the boys take, in order to across their hurdles and achieve their dreams forms the crux of the madness that Fukrey becomes! To give away any more of the plot would simply be unfair.
Kudos must be given to the producers for casting unknown faces and as did the guys in Kai Po Che, the young actors from Fukrey simply rock, from the loveable Choocha [Varun Sharma], kickass Hunny [Pulkit Samrat], sweet Lali [Manjot Singh], to intense Zafar [Ali Fazal], each and every performance is extremely enjoyable to watch. What adds to this is a some great comic dialogues and scenes which makes sure the cast leaves a lasting impression with you. Not to be outdone by the boys, Richa Chadda puts in a stellar performance as Bholi Punjaban, a female gangster!
Mrighdeep Singh Lamba along with writer Vipul Vig co-write the screenplay, which is peppered with some fantastic scenes and moments, however does have parts which could have been tightened up a little, which includes the running time, which sits at around 2 hours and 15 minutes. Ram Sampat provides the soundtrack to Fukrey and his music jazzes up the mood of the film, with quirky lyrics and tunes from title track 'Fuk Fuk Fukrey', to the very likeable 'Ambarsariya'.
Farhan and Ritesh have produced a fresh and entertaining film. Great performances which are both funny and enjoyable. If you loved Kai Po Che or Delhi Belly, this film is definitely for you.