Coming up on June 14th is the coming-of-age drama comedy Fukrey directed by Mrighdeep Singh Lamba. The movie is a twisted and deliciously hilarious tale of four young, hapless 'nobodies' ['Fukreys'], running after their individual desires, brought together by one dream. Produced by Ritesh Sidhwani and Farhan Akhtar's Excel Entertainment the film features Pulkit Samrat, Manjot Singh, Ali Fazal, Varun Sharma, Priya Anand, Vishakha Singh, Pankaj Tripathi, and Richa Chadda. As with all Excel productions, music is an important part and for Fukrey they brought in the great Ram Sampath. So what has he created for Fukrey and is it an OST that we want to play again and again? Read on!
The album sets off with a bang with the title song, Fuk Fuk Fukrey, with vocals by Amjad and Ram Sampath. One of the things I always admire about Ram Sampath is that he always manages to bring together unique sounds and he does that again on this track. It is Punjabi beats on speed but for some reason it works. It has a fabulous hook with the Fuk Fuk Fuk stanza that has a really cool groove layered in. He mixes the Punjabi underlayment with very modern club dubstep beats. The song changes a lot and gets quite confusing in the middle but overall it is a good track. From the video we have seen, it certainly seems to fit the mood and mode of the film. I liked it in parts and other parts not so much but overall the beat, the feel and the groove and the fact that Fuk Fuk Fuk will go through you head makes it a hit. Give it a play!
Starting out with a lovely simple acoustic guitar and the brilliant Clinton Cerejo I sighed with happiness when I heard the first notes of Rabba. But then… and I hate that I had to say but then, it went to a fast-paced, modern, heavy synth song that had a bit of 80-90s groove. Vocals by Ram Sampath and Keerthi Sagathia are very good and fit nicely into the electro beat. Nice track in parts but not one I wanted to play again. I want a whole song on the first 40 seconds please.
The incredible Kailash Kher sings Karle Jugaad Karle. The track begins with him singing A capella and it does not get any better than that! He is just too good! But then… yes, sadly again a but then…for this track Ram decided to have a rock/Punjabi mix which was so did not play. The addition of the wailing electric guitars just did not mix well and sounded out of place especially with such great classic beats and vocals in most of the song. It either needed more of the rock edge or not have it at all. At 6 minutes it is a long song and I wanted to turn it off well before it was over, which never is a good sign. It may sound much better within the context of the film.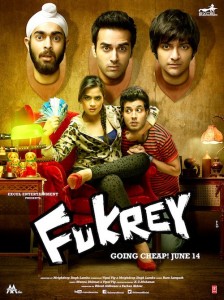 Beda Paar begins in a very trance mood, which is cool, and then the song changes up completely – like many seem to do on this OST. The composer brings in Mika Singh and his Punjabi beats and the track becomes something totally different. Now you wouldn't think the two would compliment and mesh but actually they do. This may sound weird but it actually seems like it would be a remix of a Punjabi song with the trance elements added in and I am not sure if that is a good or bad thing. Tarannum Malik joins and adds a wonderful vocal section that fits the song perfectly. 'Beda Paar' relies a little too much on the mixing board I think, but it is a good song that will play even better on screen.
Lag Gayi Lottery is a celebration song that has Ram Sampath again experimenting with a new sound. It has a very pop flavor in both the music and the lyrical intonations. And gasp! It has English lyrics, which actually don't sound totally out of place. A pacey song sung fabulously by Ram Sampat, Tarannum Malik, Rana Majumdar. 'Lag Gayi Lottery' is an enjoyable song to listen too and I found myself singing along! I look forward to seeing what will be happening in the movie when this song plays.
Finally we have Ambarsariya sung beautifully by Sona Mohapatra, who we have heard on 'Bahara' from IHLS and 'Jiya Lage Na' in Talaash. 'Ambarsariya' is by far my favorite song on the album and one I would listen to over and over again. Very modern with an acoustic guitar as the simple back up and it so works. You can never go wrong with simple music and a gorgeous voice and this one is so good! Sona Mohapatra is brilliant! Def add this one to your favorite song lists and I have a feeling this one will make it on our best song lists of 2013!
I am always excited to listen to a Ram Sampath OST because I know I will hear something new. With Fukrey, I did but I feel that this one is a bit of a miss. All the songs are fine but they all seem a bit over produced and a bit of a muddle. The stands outs have to be 'Fuk Fuk Fukrey' and of course one of the best songs this year 'Ambarsariya'.
Fukrey hits theaters on June 14th.