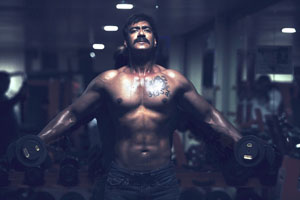 Advance screenings of Reliance Entertainment's eagerly awaited blockbuster release, 'Singham', have generated staggering praise among the industry's most respected critics and stars. Rohit Shetty's tribute to the classic, Indian action flick, starring a beefed-up Ajay Devgn, has earned widespread adulation among all the right circles, building the anticipation and buzz among cinemagoers ahead of the film's Opening Weekend.
Leading film critic, Taran Adarsh, has given the film 4.5 out of 5 stars, commenting, "SINGHAM is a full-on masala film that works big time for varied reasons: The energetic drama, the terrific confrontations, the raw stunts and of course, for the three 'heroes' – Ajay Devgn, Prakash Raj and director Rohit Shetty. It's a complete package of entertainment for the masses and devoted fans of masala movies. This one is sure to roar at the box-office. It has Blockbuster written all over it!"
Following a special screening of the film yesterday, veteran of Indian cinema, Amitabh Bachchan, commented on Twitter, "SINGHAM! Everything right for a complete masala entertainer, going to be big! Especially in Maharashtra. Well done Ajay/Rohit."
Abhishek Bachchan, who joined his father for the special screening, wrote on Twitter beforehand, "Bachchan boyz night out!!!! Sr and jr off to see Singham. Let's see how loud the lion roars." Following the screening, the actor posted, "And the lion roars LOUD!!!!! 'Singham' is one film you don't want to miss. Go for it and then go again!!!"
In praise of Ajay Devgn's amazing six-pack physique in the film, fellow Bollywood heavyweight, Salman Khan, even posted Ajay's bare body pictures on his own profile, complimenting the actor's hard work. He commented, "Bajirao Singham ne kya body banieeeeee . Kamaal karte ho yaar Devgn, Oye teri! Baap re baap. Superb Ajay's body is looking too good." Before Salman it was Riteish Deshmukh who had complimented Ajay on his new look for the film.
'Singham' pays homage to the age-old tradition of the classic, Indian action film, famed for gravity defying stunt sequences and a heavy-handed dose of 'dishoom. It heralds the bygone days of fist-to-fist combat scenes and carefully coordinated fight choreography – a lost art in today's screen age of high-tech gadgetry and superimposed special effects.
'Singham' releases in UK and worldwide on 22nd July through Reliance Entertainment.