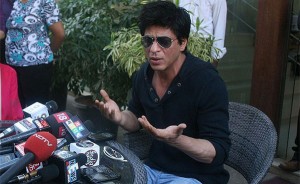 Actor and Indian Premier League franchise Kolkata Knight Riders co-owner Shah Rukh Khan is banned for 5 years by the Mumbai Cricket Association (MCA) from entering the Wankhede Stadium following a scuffle he has on Wednesday night with security and officials of the association.
Acoording to MCA treasurer, Ravi Savant, Khan had misbehaved with and abused the MCA security as well as the officials. "He misbehaved and abused the MCA security personnel as well as MCA officials, including our president Vilasrao Deshmukh, after the IPL match (between KKR and Mumbai Indians)." Savant wanted to ban the actor for life from entering the stadium in future.
KKR won the match with 32 runs. Savant said Shah Rukh and his posse of bodyguards had gone up to the teams' dressing room and then came down and started to go on to the ground. "The MCA security personnel told them they cannot do so as the match was over which led to Shah Rukh abusing them as well as the MCA officials. There was manhandling too by his people. We are also going to lodge a police complaint against him. Of course we will lodge a complaint with the BCCI also."
SRK hits back at MCA
The actor, who usually stays silent on rumours and other stuff, held a press conference and clarified his stance on the matter and reports where security blamed the actor for being drunk. SRK hits back at the MCA saying he was not drunk during the alleged brawl between him and the security guards. He adds he lost his cool after the security guards physically manhandled his children and their friends who were playing on the ground.
"I was not drunk, I had gone to pick up my children. The officials were extremely aggressive. I just got angry but I left after that."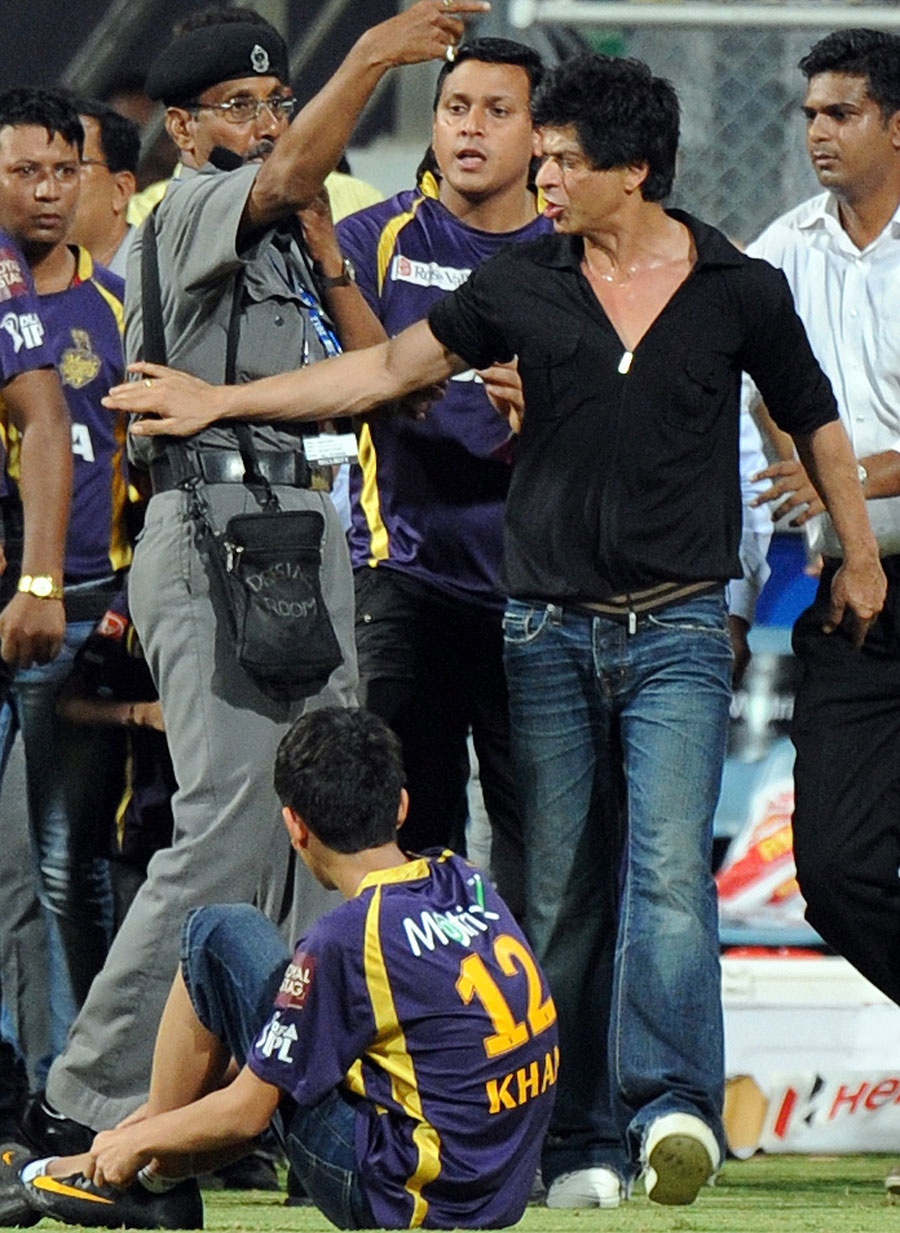 SRK: "I was provoked"
The actor does not deny he acted aggressive during the brawl but did it only on provocation. "To be abusive to fans or audience that's not me. They manhandled little girls. I would not deny that I was abusive but it started that this gentleman came from behind to say something in Marathi, which I cannot repeat. I asked him to speak in Hindi. I said a few things in anger. I was one and they were 20-25 officials and they were extremely rude. When I tried to answer them, they hid behind others."
While MCA demands an apology from SRK, he says that they should apologize to him. "They should apologize to me. They were extremely high-handed."
When asked about the ban, SRK replied "If this is the kind of behaviour meted out to people then I would not go there. There were people rushing at me aggressively. I think it's unpardonable that you manhandle kids in the name of security. I don't know about the ban. I will call (MCA head Vilasrao) Deshmukh. I will write a complaint about their behaviour and the kind of language they used," he added. He also said he didn't regret his actions and it didn't make a difference to him if he was banned from the cricket stadium.
"I didn't go for the match, I went to pick up my children. I have no clarification to give. They should look at their association and how they behave. They cannot, under the garb of security, be high-handed with people, especially children."
Deshmukh: "Banned for 5 years"
Vilasrao Deshmukh, president of the MCA, followed suit and gave a press conference on the matter. He said the managing committee had decided to ban the actor and owner of IPL team Kolkata Knight Riders as he had "shown no regrets for his action and behavior." "If anybody behaves like this…whosoever it may be…action will be taken."
Celebrities take to Twitter
And while Deshmukh is full in support for this band Bollywood has taken to Twitter in full support to SRK.
Srk is one of the best fathers i know....and protective about every child...he was being just that....a protective parent!!!

— Karan Johar (@karanjohar) May 17, 2012
Anurag Basu justifies SRK's behavior and added he would've gone further in the scuffle with the MCA guards and "smashed their heads if it was my daughter".
Actor Ronit Roy stood up in defence of Shah Rukh tweeting, "His daughter was touched and shoved. He protected. Well done Dad!! At Wankhede, SRK was a father, not just an actor… Please don't expect a father to apologise for protecting his baby. Satyamev Jayate."
Raj Kundra: "SRK banned from a stadium?? Ridiculous punishment for a father protecting his children! I can see many celebs boycotting this stadium!"
Celina Jaitley, new mother of twins, says "when it comes to ones children a parent will go to any length to protect them. SRK is a good dad."
A few other celeb-tweets:
How easily ppl forget that celebrities are real ppl that feel just like the rest of us. & will react like a commoner when provoked @iamsrk

— Farah Khan (@FarahKhanAli) May 17, 2012
read about the SRK incident. I think @iamsrk was very decent about the whole thing. I'd have ripped their heads off if it was my daughter.

— sujoy ghosh (@sujoy_g) May 17, 2012
Have known @iamsrk for 17 years now - Impossible to believe that he would ever be drunk and using foul language with kids around... #srk

— Aalif Surti ? (@SuperAalif) May 17, 2012
Parents of the kids present speak up
Deanne Pandey, a celebrity fitness trainer whose children were with SRK, said in an interview to NDTV, "There is a way security people ask children to move away. You aren't suppose to manhandle kids. Any parent would have reacted like this. Why don't the media/officers see that? I am nobody, they would not have made a big deal about it. Because he is SRK, a star, they are making a big deal out of it. He was responsible for all our children. He was looking after them."
Today a 14-year old boy came forward with his story as a eye-witness. The teenager witnessed the whole thing and alleges that these MCA members were drunk and upset because Mumbai Indian had lost a decisive match.
Father of the young boy, Sukhminder Lamba, gave a statement to Rediff.com: "It is amazing to see the media devour Shah Rukh Khan for protecting the children. I am sure at some point in time every parent has gone through a similar situation and has been provoked and reacted to a greater degree. The boys were pushed around by the security men even though they were making their way back quietly." He adds that Shah Rukh Khan reacted only when girl children were pushed and manhandled by MCA members.
"The abuses used by them, if ever revealed, will have hell breaking loose. Shah Rukh Khan has shown great maturity and understanding in keeping silent."
According to Lamba the children were with Shah Rukh Khan from the time he entered the Wankhede till they left. Not once did Khan abuse a female spectator, as is claimed in the First Information Report filed by some MCA officials. "After watching the allegations made by the MCA officials, these kids have realised that the human mind is the devil. They cooked up allegations by the MCA officials have taught these kids that lies are a way of life, that truth never wins in the face of absolute power."
The BCCI still needs to approve MCA's request for the ban.