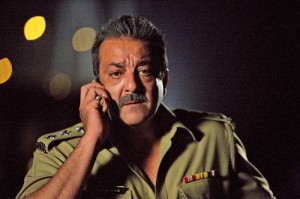 The Rensil D'Silva directed Ungli hits theaters on November 28th.The black comedy-drama tells the tale of how five ordinary citizens can make a difference in a city blighted by dark forces, as they literally give the proverbial 'finger' to the corrupt and dishonest. Not only starring Emraan Hashmi Randeep Hooda and Kangana Ranaut, the film also features the great Sanjay Dutt who plays the tenacious and honest police officer named 'Kale' who goes against the Ungli gang.
Sanjay Dutt talks about his character and working with director Rensil D'Silva in this short Q and A.
In this film, you play a hardline police officer called Inspector Kale, did you enjoy playing this role?
I think Inspector Kale is simply misunderstood. (Laughs) I really enjoyed playing Kale, the stunts were all really fun and doing the fight scenes with the cast was hysterical. It's fun playing the villain now and again, villains are so simple and you don't have to worry about the audience loving you. My character is able to get away with anything and I think that sort of character is always the most enjoyable to play.
Did you enjoy having Rensil D'Silva as the director?
I think what makes Rensil such an amazing director is the fact he genuinely cares for his cast and really wants the best for them. It's fairly unique to get someone like that, for me personally it means I have a deep respect for Rensil not only as a director, but as a friend.