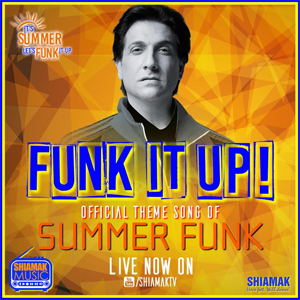 Entertainment icon Shiamak Davar is back with a new single and this time he's going to Funk It Up!
Over the last thirty years, Shiamak has made it mission to help and heal people through the power of dance. His most popular summer dance workshop, Summer Funk, is a favorite amongst dance enthusiasts across the world. His latest track, #FunkItUp, is the official theme song for Summer Funk. The track has elements of Funk, Pop, Dubstep and Bhangra. Catching the pulse of today's youth, Funk It Up is going to be the dance anthem of 2016 amongst all his students in India, Canada, Australia, UK, USA and UAE.
At a recently held award show in Mumbai, Shiamak surprised Bollywood stars including Sushant Singh Rajput, Kriti Sanon and Sonakshi Sinha by playing the track during stage rehearsals and all of them automatically started grooving the music with his Dance Company.
For years, summer for millions across the world has meant only one thing – dancing at SHIAMAK Summer Funk. A movement that started in 1994 spread across multiple cities in six countries giving an opportunity to dance enthusiasts to learn their favorite dance styles, perform on stage in a professional set up and feel like stars. With a motto of 'Have Feet. Will Dance.', the Founder/ Artistic Director Shiamak Davar has made dance available to all creating a global dance community.
FunkItUp is sung by Shiamak Davar with music and lyrics by Glen D'Mello. Vancouver based DJ Roh (Rohan D'Silva) has produced the music with backing vocals by Upasana Madan and Glen D'Mello. It has been mixed by award winning mixing engineer, Tim Palmer and mastered by Justin Shturtz at Sterling Sound, New York.
The official audio of #FunkItUp:
It's Summer, let's #FunkItUp!