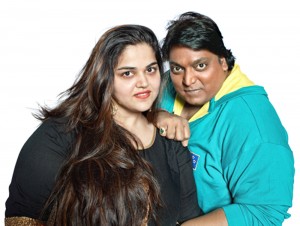 Choreographer Ganesh Acharya's wife Vidhi Acharya has turned producer for the first time with the film Hey Bro which features Ganesh Acharya, Maninder and Nupur Sharma in the lead role.
Vidhi's first film as a producer is a comedy-action drama. A tale of two brothers Gopi and Shiv (Played by Ganesh and Maninder), Judwa with a twist will also be introducing Jhalak Dikh Laja fame Hanif Hilal as the villain.
"Working on this film has been a great experience for me as I couldn't have found a better project than Hey Bro to kick-start this new phase in my life. The whole shooting part was great fun for all of us. We were like one big family on sets," says Vidhi Acharya
Though Ganesh Acharya's first maiden production venture under his banner Pushpa Krishna Creations was Swami which was Directed by him and incidentally starred actor Maninder too, this is the first time his wife has come on board is part of this new film of theirs Hey Bro!
Well, we wish Vidhi best of luck for her new endeavor.
Presented by Pushpa Krishna Creations, Hey Bro directed by Ajay Chandhok & Produced by Vidhi Acharya, is all set to release on 27 February 2015.