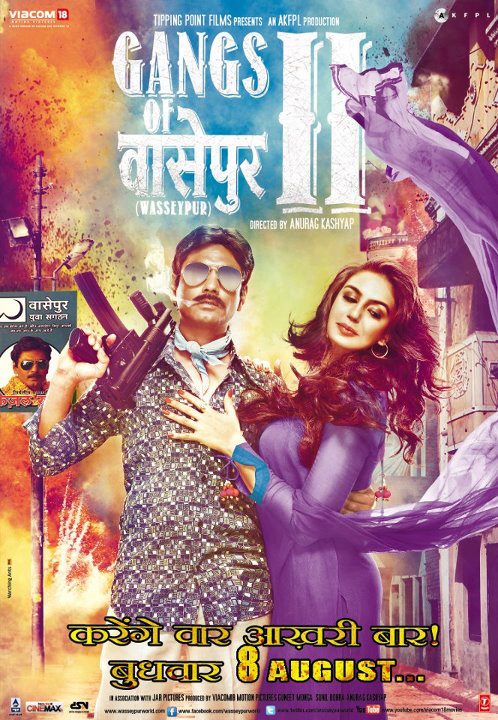 The second installment of Anurag's gangland epic Gangs of Wasseypur is finally out. Originally played back to back with part one at the Cannes Film Festival, the second part is literally the same film continued from where the first left off. If you want to refresh or introduce yourself to the first one here is our review for you again. For the rest of you who have been waiting since the first part, what you really need to know is what happened next? Was part two worth the wait? Is part two as good as the first? And for those who have held off, should I now go and watch them both back to back? Read on for all your answers and more…
Without giving the plot away, part one ended with the death of Sardar Khan (Manoj Bajpai) and part two opens with his corpse being received by his family members. This part charts the rise of his son Faizal Khan (Nawazuddin Siddiqui), alongside his sons from his second marriage, Definite, played by debutant Zeishan Quadri, who was also co-writer of the film and of course the ultimate revenge upon Ramadheer Singh (Tigmanshu Dhulia) for the deaths of Sardar Khan and his father in the first part, both of the characters played by Manoj Bajpai.
Much of the views from our first review hold true here again, as this part is still the same gritty and rural style, characters, coarse language, blasé killings, great rural music and comic moments. The key thing to remember is that both parts are essentially one long film, cut into two parts, which have been released separately. This is not like Kill Bill Volume 1 and Kill Bill Volume 2, where both were again the same film, but volume one focussed on the now and action, whereas volume 2 focussed on the backstory and drama. What we have with Gangs of Wasseypur 2 from a narrative perspective is the same themes carried on for another two and half hours.
Talking of narrative this is probably where part two fails to culminate, the core narrative is no different from the first. It also regularly strays to cover a number of subplots, for example the relationship between Nawazuddin and Huma Qureshi. Therefore, the real action and purpose of the film – revenge, does not really take off until an hour and half into the film. The other key issue with the film is it's purpose and redemption, neither of which we really get to feel.
If you recall Scorsese's Gangs of New York, the whole reason Leonardo DiCaprio joins Daniel Day-Lewis' gang is because he is ruthlessly focussed on avenging his father's death. Here the character of Sardar Khan was so flawed and so disliked, with his sons so estranged from him, you lack any real compassion or satisfaction when Faizal finally does take revenge. Also much like his father in the first part, he seems to waste the entire film in frivolous acts, none of which really bring him any closer to attaining revenge.
Further, from a climax perspective, if you recall Aamir Khan in Ghajini, you really wanted and waited for him to get to Ghajini and avenge the murder of his love. Ditto Amitabh Bachchan in Agneepath, but here there is no such emotion or relief by the time the climax arrives.
So was part two worth the wait? Well, if you have seen the first part, then you do need to finish part two, just so you know how the story ended. And should you watch them back to back? Not really, you could quite easily watch the first one for all the reasons we suggested in our first review and then if you really wanted, watch the second one soon after, but a break you will need from the excessive length of both parts.
In the end, the first part for us was so much better, primarily due to Manoj Bajpai's performance, that if we were pushed to take a pick, the first part will definitely remain longer in memory than the second one. What would be amazing is if they could release a super edited version of both parts, which can bring them into a complete three hours, that way the film would find a much larger and wider audience and would make for a far refined viewing experience.
It is probably 3 stars for both parts put together, purely as it is a complete cinematic attempt from Anurag Kashyap and a complete cinematic experience for the viewers, but it's 2 ½ stars for part two alone!