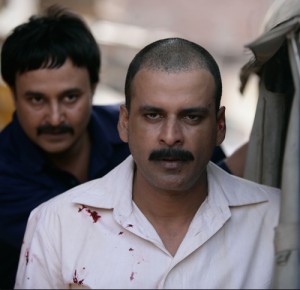 I am sure that I have said it before but I have no problem saying it again: Manoj Bajpayee is one of my favorite actors! He amazes me with how deep he gets into characters and his performances are always thrilling. He is also one of my favorite actors to interview and we always have a great conversation more than a strictly question and answer interview. This time the subject was Anurag Kashyap's Gangs of Wasseypur. Staying true to its real life influences, Gangs of Wasseypur explores a revenge saga through the socio-political dynamic in the coal and scrap trade mafia of Wasseypur, through the imprudence of a place obsessed with mainstream 'Bollywood' cinema. A two-part film, according to the director, it the story and evolution of Wasseypur. He wrote in his director's notes, "From digging coal to killing someone over a innocuous brawl to vengeance being inherited. Part One of the film gets to the roots of the people and explains why they are the way they are. Part 2 explains the Bollywood (Hindi Cinema) obsessed growing up of their inheritance of vengeance. It was a way of life, in the name of honor, love, friendship, loyalty or maybe just pure animal instinct. It was the Wasseypur of today." Though Manoj was in the jungles of Madhya Pradesh shooting for his next film Chakravyuh with Prakash Jha, the actor took time out to chat about Gangs of Wasseypur. Even with the intermittent connection due to his remote location, our conversation flowed. We had a wonderful talk about the film, his role, and how much he admires director Anurag Kashyap.
Tell us how you became a part of the film.
It was the director Anurag Kashyap, whom I have known for so many years – since the Satya days. He was the writer for Satya and three of my earlier films. When he was writing Wasseypur, that is the time he called me up and he wanted to have a meeting. He gave me a narration at 12 o'clock in the night in his office. Right after the narration finished I said, "Let's go ahead and do this film." I was so excited to do something which has never been told in this manner.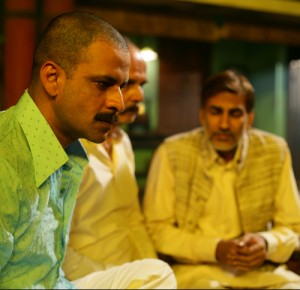 Tell us the story from your characters point of view.
This is a story between two sects actually and both of them are Muslims. At the same time the protagonist of the film has the eye on taking revenge on his father's killer. He has to deal with the other clan and then he has to keep an eye out for the guy who has killed his father. The antagonist has nothing to do with the Muslim clans or the conflicts between them, but it's how he uses them to his benefit.
Also the backdrop of the film is the whole coalmine because most of these guys are having a fight to take over the coal mafia. So it's very interesting. The film is in two parts. The first part is about the father – that is me. Second part is about the children and who comes up among all of them. So it's all about that. The story flows on so many different levels, but it still holds your attention and you are completely glued not only because of the way the story or the script is written, but also the way Anurag deals with the whole plot. The way he shot it, the way he tells his story, you know, through the camera; these are the interesting elements throughout the film.
From what I have seen of the character you play he is pretty dark and well… pretty mad.
(Manoj laughs) It's an amazing mix of dark and humor, which you've never seen earlier. It's dark because of the people we are talking about. For them, for this character and for this people, crime is part of their life. It's not something that they have to be very intense about or they have to be extra gruesome about, in their faces, in their thinking; it's part of their whole life. It's the way they live. It's the way they move. Crime is just one part of it and their do it very swiftly and without twitching their eyes. It's like having your lunch or having your dinner. But the major part of their life is humor. The way they interact with each other, the way they react to each other, the way they respond to each other, it is so humorous and at the same time the core of it is very dark.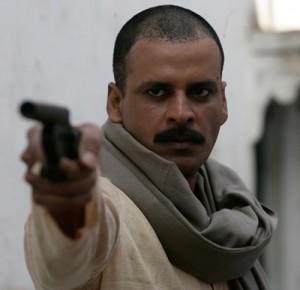 Talk to us about working with Anurag Kashyap.
You know we are very close to each other. When he was writing those films for me Satya, Shool and Kaun with director Ram Gopal Verma at that time he was about 28 or 29. At that point in time, he was desperate to make a film, he was vulnerable, and he was emotional. When I met him after such a long gap and worked with him on Gangs of Wasseypur, I saw how he has grown and changed as a human being, which is just magical. He is in control, he is confident; he has a deeper understanding of human beings so much so that I started looking up to him. That's what I've realized. It's a magical evolution I've seen in a human being which made me extremely happy and inspired. Getting to the character, it's been a learning experience working with Anurag and it was a fruitful and learning thing for me playing the character that I dealt with in Wasseypur, which is one I have never done before.
The film is being showcased at film festivals all over the world including opening the London Indian Film Festival…
Yes. We are going to screen at so many festivals simultaneously and on the 22nd June it will be releasing all over India. The kind of response that we are getting for the teasers and the trailers is amazing. I'm just keeping my fingers crossed. Let the world see the entire film and judge the film for themselves.
Do you see a change in Indian films to be more accepting and even clamoring for films like this?
Yes, and Wasseypur is taking Indian cinema one-step forward. Anurag is one who supports young filmmakers. He is sort of the back actually. He is somebody that is making a great deal of effort to get all the likeminded filmmakers together to bombard the industry with new talent, new ideas. So we are in a changing time. It's very lucky for actors like me to be working at this time.
Describe the film to the audience.
For the audience it's very easy. It's a story of India, which has never been seen before, and it's a story of real people. It's a story of you and me, it's a story of people who we are living with but still don't know much about it. So let's go explore their world and see their world very closely.
The film received rave reviews and a standing ovation at its premiere at the prestigious Cannes Film Festival. Next, Gangs of Wasseypur will open the London Indian Film Festival on June 20th and will hit theaters on June 22nd. From what we have seen and heard this is a film and a performance not to be missed!