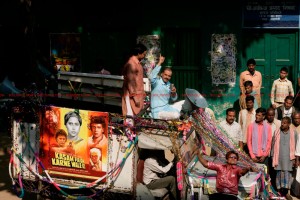 International critics have given Gangs of Wasseypur, the first mainstream Bollywood film to be selected for the Director's Fortnight, rave reviews following its world premiere at the 65th Cannes Film Festival earlier this week.
Directed by Anurag Kashyap, who is renowned for his work in creating a niche in Indian cinema's 'avant-garde' space, the film is an epic tale, spanning 60 years of two feuding families set against the backdrop of the rural coal mining communities in Dhanbad, Jharkhand, India. It combines clever filmmaking with a powerful, high-concept and entertaining plot, with revenge at its core. Accentuated by strong performances by a talented and eclectic cast comprising of Hindi cinemas finest, Manoj Bajpayee, Nawazuddin Siddiqui and Richa Chadda, the film is cleverly told in two parts.
The Times (UK) said of director Anurag Kashyap; "(His) gritty, rowdy snapshots of contemporary India have marked him out as one of the hippest film-makers working on the subcontinent."
The Hollywood Report called Gangs of Wasseypur, "A dizzying explosion of an Indian gangster film, whose epic structure and colorful, immoral killers capture the imagination for over five hours. Gangs of Wasseypur puts Tarantino in a corner with its cool command of cinematically-inspired and referenced violence, ironic characters and breathless pace."
Screen Daily commented; "Never a dull moment … oozing visual style, laced with tight and often blackly comic dialogue,… this Tarantino-tinged Bihari take on The Godfather has what it takes to cross over from the Indian domestic and Diaspora markets to reach out to action-loving, gore-tolerant theatrical and auxiliary genre audiences worldwide."
Generating widespread interest from critics and audiences alike, Gangs of Wasseypur represents the brave new Indian cinema breaking the cliches and conventions, something which Anurag Kashyap has come to be known for. The film is presented by one of India's leading integrated film companies,Viacom18 Motion Pictures and produced by AKFPL.