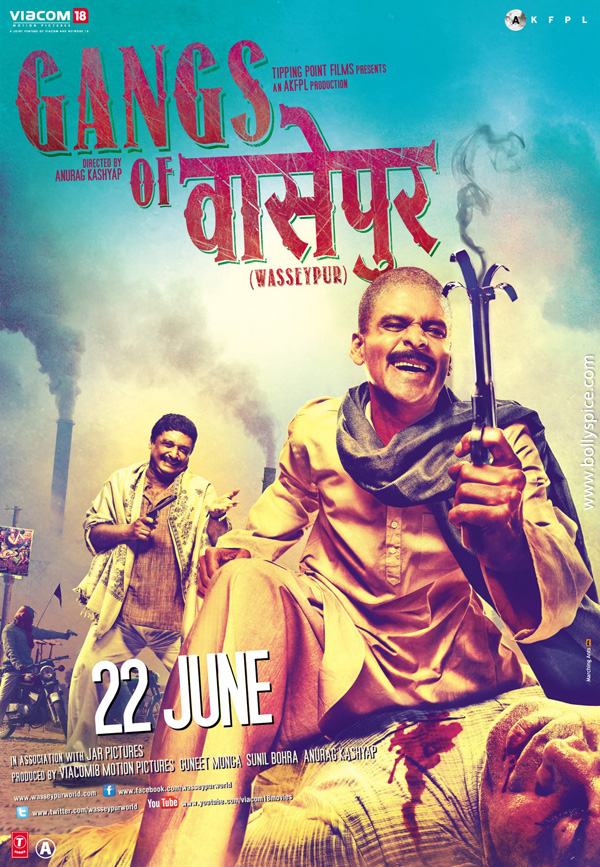 Anurag Kashyap's name (No Smoking, DevD) has become synonymous with new age Indian cinema, which pushes boundaries and offers an alternative to the mainstream commercial offerings from Bollywood which many have become accustomed to. Gangs of Wasseypur (GOW), fresh from its critical reception at Cannes Film Festival, is part one of a self-styled almost 6 hour epic mafia film, set in the hinterlands of northern India. The central concept of the film is revenge, coupled with the rise of warring clans. It is similar to the revenge Leonardo Dicaprio sought from Daniel Day Lewis in Scorsese's Gangs of New York, or Amitabh Bachchan fought for in Mukul Anand's Agneepath. In GOW this revenge is laid out very early in the film by a young Manoj Bajpai, in the name of his father's death (also played by Manoj Bajpai) and will clearly culminate in part 2 of the film.
The maverick director has built up quite a cult following in recent years, so I'll be mindful in presenting this review to reflect that and also for those who wish to see the film as a general release. While watching the film, inevitable comparisons arise with similar films of this genre and so it is natural to state those comparisons in order to review the film.
If we base our comparisons and analysis of GOW on other similar films, firstly lets look at other mafia genre films. GOW definitely has its own distinct flavour – setting, characters, language, music, but the concept is not a novel one and can be referenced from classic gangster films such as the Godfather, to more recent films like City of God. As far as Hindi films go, it is more raw and less glossy than say Vishal Bharadwaj's Omkara or Abhinav Kashyap's Dabangg were (both films also had rural settings). GOW's characters are more real and there are no beautiful people and no lip-synced songs. In fact its setting felt more like a grand western, witnessed recently in Brad Pitt's The Assassination of Jesse James by the Coward Robert Ford. So in one sense GOW is a departure from the Mumbai-based mafia films we are used to, such as Satya (scripted by Anurag Kashyap) or the more recent Once upon a time in Mumbaai and is deliberately neither as glossy or polished as those films were.
Compared to other 'two part' films, GOW felt more akin in length to Benicio Del Toro's Che: Part one and Che: Part two, which is why rightly Anurag Kashyap has suggested that you watch both films together, as the Cannes viewers did. Perhaps this will justify the reason and need for its length – a deeper narrative to understand the background and motivations of the characters. But unlike Che, which tackled two different historical topics, the narrative of GOW is more like Tarantino's Kill Bill part one and two. It is the same film, but stretched into two parts. Another example that comes to mind is Ram Gopal Varma's Rakht Charitra, however the key difference between those films and GOW, is its length. Although peppered with amazing performances, great music and fantastic dialogue, which were comic and clever in parts, one can not help but feel the sheer length of the film and unless part two is radically different, we may have to question what they were thinking from an editing perspective.
For Anurag fans I would say that this is radically different from all of his earlier films and is his most commercial film yet. You can clearly witness the craft that has gone into making GOW and whether reviews are great or not, you should definitely watch it as a piece of cinema. The main issue I have with it and with any film or director like this, is that you can not set out to make an 'epic' or a 'masterpiece', they just happen and here one can not help but wonder if Anurag was being a little too self-indulgent? He may have been accused of that for No Smoking, but was a very different style of filmmaking. Having seen the first part though, I too would be tempted to say perhaps wait for the second part and watch them together, or one followed quickly by the other.
For everyone else, if you like the change of watching a non-urban based film, which is rich in Indian folk inspired music and like many have become a fan of Manoj Bajpai (Bandit Queen, Satya, Rajneeti) over the years, then watch this for his amazing performance, amongst a host of other great performances from the entire cast. Be warned that this not a family film and that there is violence and strong language aplenty.
If there is one thing for sure this film is both a history and geography lesson of Wasseypur. As Anurag said himself as the London preview screening "If you Google search Wasseypur the place will not come up, only the film will!" He has clearly put Wasseypur on the map and I, like many, will reserve my final judgement until I watch the second part.