MANDOM CORPORATION (India) PVT. LTD., a wholly owned subsidiary of ¥60 billion MANDOM Corporation Japan and leading manufacturer of men's and women's cosmetics has appointed Varun Dhawan as the official brand ambassador for its brand GATSBY. Varun will endorse the brand GATSBY range of hair styling products that are ranked high on style and are established in the Indian market.
Speaking at the occasion, Katsuya Sogo, Managing Director & CEO, MANDOM CORPORATION (India) PVT. LTD. said, "India signifies a very important market for us. We are looking at consolidating and expanding our presence in the country and emerge as the No. 1 brand in the Men's Grooming Category soon. Signing on Varun marks a major step in this direction as he connects well with our target audience and will play a significant role in influencing the choices of youth and cultivate the 'hair styling culture' in the country."
Commenting on the development, Varun Dhawan said, "I am excited and thrilled to be associated with a brand like GATSBY. GATSBY today, has come to be synonymous with a superior range of products that have a mass appeal and more importantly, a brand the youth can relate to. In fact, it has played pivotal role in making hair styling a 'cool' concept amongst the youth today. I am extremely happy to be the face of GATSBY and look forward to exploring the brand proposition further."
GATSBY was launched in Japan in 1978 as a hair styling brand and evolved rapidly to offer a complete range of grooming products for men. It currently is the No. 1 brand in the men's grooming category in Japan and has an overwhelming 55% share in the men's hair styling category in the country. The brand made its India debut in 2003 when MANDOM started distribution of GATSBY products from MANDOM Indonesia, through zonal distribution companies which then merged into on single entity – Gardenia Cosmocare Pvt. Ltd. Since then the brand has moved from strength to strength and resulted in the company establishing a direct presence in India through MANDOM CORPORATION (India) PVT. LTD. in 2012, making it the 11th country where the company has a direct presence.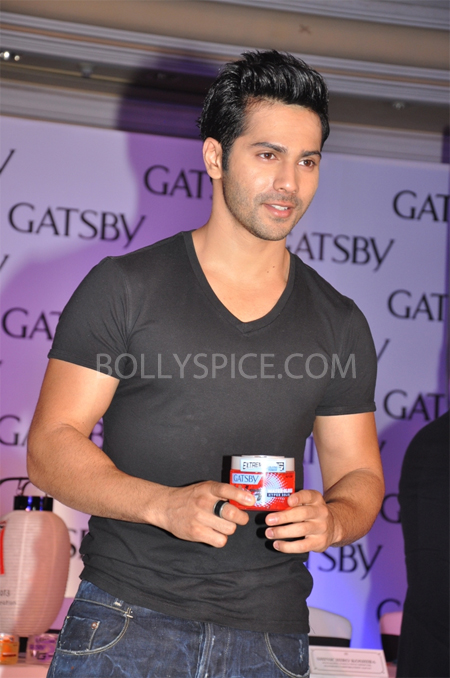 L-R: Enomoto Takayuki, Head – Marketing, Mandom Corporation (India) Pvt Ltd, Katsuya Sogo, Managing Director & CEO, Mandom Corporation (India) Pvt Ltd, Varun Dhawan & Shinichiro Koshiba, Managing Executive Officer and Head – Marketing, MANDOM CORPORATION