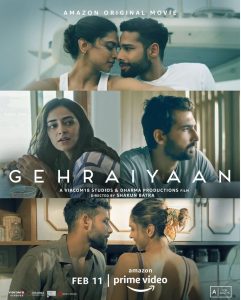 Gehraiyaan(Amazon Prime Video)
Starring Deepika Padukone, Siddhant Chaturvedi, Ananya Panday, Dhairya Karwa with Naseeruddin Shah, Rajat Kapoor
Directed by Shakun Batra
"Get out, I don't want too see your fucking face," Rajat Sharma playing a cross between a worried friend and a closet fiend barks at Deepika Padukone.
This just about sums up the mood of the irate characters: either they use the F word all the time("Yeh fuck fuck kya laga rakha hai? An elderly character wonders) or they are just doing it.
I never thought I'd get to hear Deepika Padukone being ticked off so unceremoniously in any film. But there you have to. Beautiful actresses yearn to turn the tables on themselves In Chhapaak, Deepika played a victim of an acid attack with a scarred face. Here in a film ironically titled Gehraiyaan she is cast as a fractured broken woman struggling with suicidal thoughts and emotional-physical indiscretions that would shame the self-delusional antics of Meryl Streep in Florence Foster Jenkins.
Padukone tries hard to give a semblance of structure to her character Alisha, hellbent on ruining everything she touches. When the film opens she is not too successful with her work, in a relationship that's seen better days, Alisha embarks on a hellishly ruinous relationship with her cousin's boyfriend Zain. As played by Siddhant(Gully Boy) Chaturvedi, Zain is neither particularly charming nor exceptionally intelligent. Just why Alisha is attracted to him remains a mystery. Could it be the forbidden fruit, the banana-mere-ghar-aana syndrome, infidelity being a pretext to whisk away cousin Tia's precious possession?
Tia as played by the supremely untalented Ananya Pandey is a clueless heiress. She reminded me of Tina Munim in Basu Chatterjee's Baaton Baaton Mein where she tells her uncle (played by David) that she has a huge problem. "What is it my child, you can't make up you mind about which dress to wear for the party tonight?" David mocks. That's Pandey's Tia for you. While her cousin Alisha bangs away with her fiancé Zain right under her nose in a luxury yatch brought with Tia's money, Tia looks like she is meditating over which shade of lipstick to wear for the evening's party.
All the four main characters of Gehraiyaan are spectacularly shallow people. The performances range from admirable(Deepika Padukone) to clueless(Ananya Pandya) to tolerable(Dhairya Karwa) to insufferable(Siddhath Chaturvedi). There is also Naseeruddin Shah as Alisha's tortured tormented Dad. He gets to be part of one of the stupidest most awkwardly written sequences where he sees Zain hurry out of Alisha's apartment, drop the keys pick it up and run off, only so that Naseer, the method actor, can tell his screen daughter, "Beta, what's going on? I saw him leave your apartment and he had your keys."
Incidentally, Zain's surname is Siddiqui, a fact that's kept out of the proceedings. And that's about the most discreet that this film can get about the indiscretions of illicit lovers.
What kept me going through nearly 2 ½ hours was the flawed fractured protagonist's character. It's good to see female heroes in Hindi cinema who are not perfect in face, fortune or feelings, and who actually have a sexual appetite. For those who count these things, the number of smooches that Deepika shares with her co-stars could make for an interesting diversion.