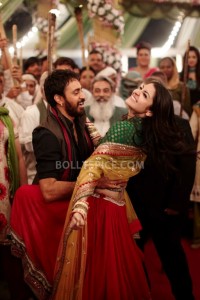 As a part of promotions for his upcoming Vishal Bhardwaj film, Matru ki Bijlee Ka Mandola, actor Imran Khan will be visiting colleges and drawing tattoos on girls.
Not many know but the actor had taken to drawing temporary tattoos during the promotions of his film Delhi Belly too and according to sources, Imran's tattoos were an instant hit, especially among girls.
"He is very artistic so he would come up with these really innovative designs on the spot. And inspired by Anushka's sexy tattoo that she is sporting in the film, he is bound to come up with equally hip designs," said a source. He will be tattooing 'Dekho Magar Pyaar Se' on all the girls.
The I Hate Luv Storys actor will be turning into a tattoo artist on December 22. "The team came up with the idea as Anushka (Sharma) will be seen sporting a very interesting tattoo on her lower back in Matru Ki Bijlee Ka Mandola and Imran too is known to be high on tattoos and sports one himself. So when they came up with the idea of Imran turning tattoo artist, he was more than happy," said the source, adding that the round will kick start with Mood I in IIT Mumbai on December 22.