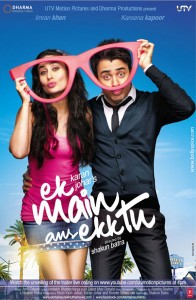 Later today, Dharma will release the next vBlog for Ek Main Aur Ekk Tu, the fourth in the series. The vBlogs are a series of videos shot by Imran, on the sets of EK Main Aur Ekk Tu, to share the fun and excitement on the film sets.

Imran has introduced almost every one important to the movie. The previous blogs have generated a huge fan base with the first blog generating 19,642 views, the second one generating 20,912 views. The third Video blog was by far the best as Imran captured Kareena's expressions while watching the EMAET trailer. It has created a viewership of 63, 199.
Ek Main Aur Ekk Tu is a story about Rahul Kapoor (Imran Khan), 25, who is on his way to become a carbon copy of his parents and Riana Braganza (Kareena Kapoor), 26, a quick-witted hairstylist, who is everything he isn't. The vBlogs have been a window to the humour and fun that we can expect from the movie. We are all waiting with baited breath to see the madness in the sets through the vBlog 4. Ek Main Aur Ekk Tu will hit theaters on February 10th!