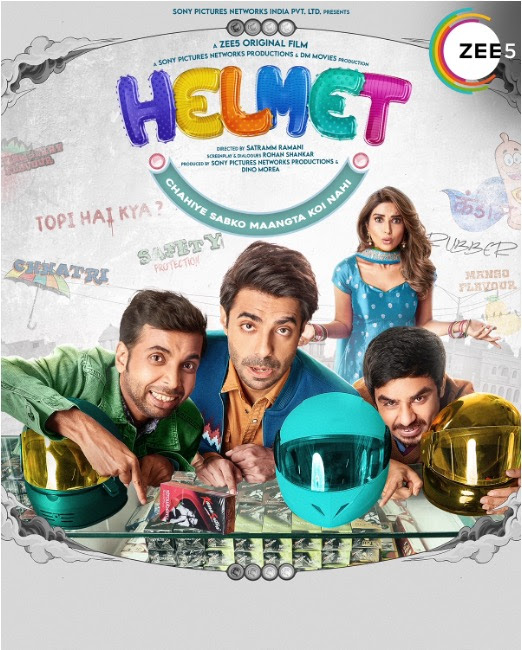 Helmet, a social, quirky comedy is all set to release on 3rd September on Zee5. Produced by Sony Pictures Networks Productions and Dino Morea's DM movies, Helmet is directed by Satramm Ramani with Screenplay & Dialogues by Rohan Shankar.
Starring Pranutan Bahl, Aparshakti Khurana, Abhishek Banerjee and Ashish Verma the film is a quirky depiction of the entrenched taboos and diffidence surrounding the simple act of buying condoms in the nation's heartland.
The film is a hilarious exploration of small-town naivety and offers insight into a milieu where even accessing a birth-control device is wrought with multiple social challenges and psychological hang-ups.
Check out the trailer!

Archana Anand, Chief Business Officer, ZEE5 Global, says, "South Asia is full of fascinating narratives and from the heartland of India comes yet another one. We're thrilled to launch the trailer of Original social comedy film Helmet. A strong entertainer that also carries a subliminal message, this film will surely win over audiences across our global markets."
Expressing excitement at the collaboration with ZEE5, Vivek Krishnani, Managing Director, Sony Pictures Films India, says, "I'm thrilled that the world premiere of our film Helmet will unfold to audiences world over on ZEE5. Helmet is a light-hearted take on a subject that has been wrapped up in so much ignominy. The film wonderfully demonstrates that hilarity is sometimes found in the most unexpected places."
Producer Dino Morea says, "This is a film which has been made with a sense-of-humour with a sweet message. I am also excited about the wonderfully talented ensemble cast, the refreshing storytelling by Satram, my director, and the way both entertainment and a certain intelligent sensibility blend together. Rohan Shankar's dialogues will make you laugh out loud. We can't wait to bring the movie to the digital screens through ZEE5."
Helmet premieres on ZEE5 Global on 3rd September.
Users can download the ZEE5 app from Google Play Store / iOS App Store, on Roku devices, Samsung Smart TVs, Apple TVs, Android TVs, and Amazon Fire Stick. ZEE5 is also available on www.ZEE5.com.