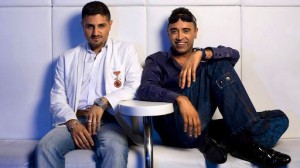 Yes, those Bollywonderful boys will be back on Bollyspice! We are very excited to announce that Raj and Pablo will be writing a special exclusive column just for our fabulous BollySpice readers! In case you don't know, Raj and Pablo are the Bollyfab hosts of Love Bollywood on the BBC Asian Network radio station. They have interviewed all of the biggest stars in Bollywood on the very popular show and through the show and the many other fabulous projects including B4U and Qatar Airways, they have proudly shown and spread their love for all things Bollywood.
Talking about the new feature, Raj and Pablo said, "Raj&Pablo are honoured to be be part of BOLLYSPICE…..WHY? Because Bollyspice is BOLLYTASITC!…."
So stay tuned for the Boy's insight to all things Bollywood and more coming very soon!