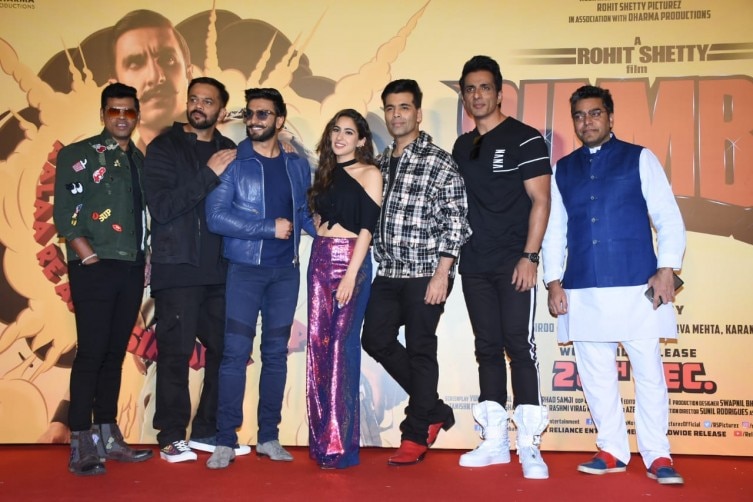 Directed by Rohit Shetty, Simmba, starring Ranveer Singh, Sara Ali Khan, Ashutosh Rana, and Sonu Sood, is all set to hit screens on 28 December. The trailer of this highly anticipated action packed movie was launched among the media today and the event was nothing but exceptional. With the trailer release, the gang has ensured that the fans have a blast while welcoming the new year with this film.
The trailer received a round of whistles and applause from the media. The team not only interacted with the media but also had a gala time with the fans present at the event. This movie brings together three powerhouses of the industry, Rohit Shetty and Ranveer Singh and Karan Johar for the first time ever.
The trailer launch was graced by the presence of Rohit Shetty, Karan Johar, Ranveer Singh, Sara Ali Khan, Ashutosh Rana, Siddharth Jadhav, Sonu Sood, Shibasish Sarkar- COO, Reliance Entertainment, Apoorva Mehta- CEO Dharma Productions, writer duo Sajid Farhad and Yunus Sajawal.
Ranveer said, "Nobody projects heroes quite like Rohit Shetty. That's why every leading man wants to be in a Rohit Shetty film because you know the way he is going to present you, nobody else can. It's been a huge honour and privilege for me to be his leading man."
Adding, "Working with Rohit saab, Karan and all on Simmba has been a dream come true."
Sara Ali Khan commented at the launch, "Rohit sir's filmmaking style is superb. On set, I have never met anyone better than him. Because he is so good, everything goes smoothly and works well. He is great to work with. I was nervous on sets every day. I was nervous, now I am excited."
Sonu Sood was full of nothing but praise, "Rohit sir makes you look so good. He makes the biggest films, and I am blessed to have been able to work with Karan Johar and Rohit Shetty. What to say about Ranveer? It is not just talent that makes people successful, it is the kind of person he is that he is so successful."
Check out the epic-ness of the trailer that showcases Ranveer as he has never been seen before!

Simmba is an orphan from Shivgadh. Yes where the beloved Singham (Ajay Devgn) was
born and raised. Contrary to the philosophies of Singham, Simmba believes that a corrupt officer's life is ideal and he becomes one. However as in all good stories there is a twist in the tale and this transforms Simmba and forces him to choose the path of good!
We will all find out more and see who might be making some cameos on the 28th!