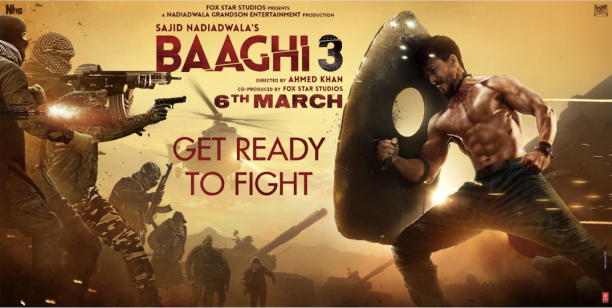 Tiger Shroff returns to the Baaghi franchise as Ronnie in the off the charts action packed Baaghi 3. Also starring, Shraddha Kapoor as Siya and Riteish Deshmukh as Vikram the film is directed by Ahmed Khan and hits theaters this Friday!
Baaghi 3 tells the story of Ronnie and Vikram who are brothers sharing an unbreakable bond. Since childhood, Ronnie always comes to the rescue whenever Vikram gets into any trouble. Their journey begins when with a certain turn in events Ronnie witnesses his brother getting beaten and kidnapped. Ronnie then goes on a rampage of destruction to see his brother safe again, even if it means that he independently has to take on an entire country.
ICYMI
Check out this incredible behind the scenes look at the action you can expect because when you thought that the Baaghi 3 Trailer has given you enough adrenaline rushes, the makers of Baaghi 3 gave us some more by taking us through the sneak peek of what went behind Ronnie's raw & thunderous action. Shot mostly in Serbia, we can see Tiger Shroff bare bodied in chilling minus 7 degrees temperatures and the action only gets bigger better and more powerful than the previous instalments. Tiger Shroff shot through some of the most difficult and high-octane real-time action sequences which keep us at the edge of our seat. The punches, kicks and bruises are proof that Baaghi 3 is going to be an adventurous ride. Tiger Shroff can be heard in the video saying that there are 'huge expectations riding on him and he has to give his best'.
We also have these cool stills!