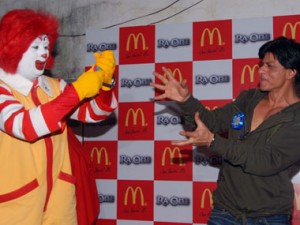 In yet another cool promotional tie-up, starting October 15th you can get a Ra.One themed Happy Meal at McDonalds in India. Not only is the Happy Meal box rockin' the Ra.One art, you also get a special G.One prize: an action figure!
The launch for the promotion happened late Saturday night in Mumbai and after the event star Shah Rukh Khan tweeted, "3am just launched Ra.One with happy meals with Mcdonalds and a lil g.one gift to go with it. Yippee!"
Tanaaz Bhatia of Bottomline Media, who worked really hard to get the promotion in place, is ecstatic that it is finally going to be available at Mc Donald's. She wrote, "Can't stop smiling at the Happy Meal for Ra.One announcement. Finally one by one all comes to life. So excited. You guys are gonna love it !!!!!!! Yay!!!!!"
At the event SRK aka G.one said, "Ra.One is the first Indian film which has collaborated with McDonald's for brand promotion. They have created a Happy Meal especially for Ra.One which will be available from October 15th."
He added, "Outside India, many films, animations films collaborate with Mc Donald's Happy Meal. I had a wish that such a film is made in India too. It's the kind of film that even children will enjoy watching."
This is not the only unique and first of its kind promotion the film is incorporating. We have told you about the Ra.One:The Game that is being released by Sony Playstation soon. There is also the really cool Ra.One merchandise that is available on the Ra.One movie website in the G.One store, from toys, to accessories, to school supplies to even computers you can geek out to all things Ra.One.
With still more than a month to go until Ra.One releases this Diwali we wonder what other fun, unique and cool things they have in store. You can be sure we will let you in on all the news so stayed tuned for more!