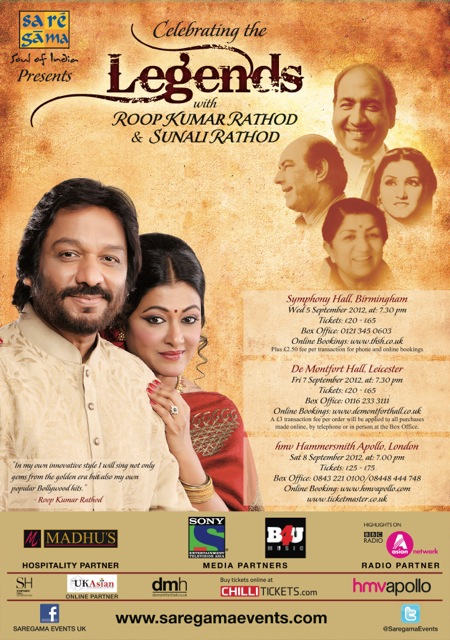 Saregama PLC, the European subsidiary of India's largest and best-known music company, presents the inaugural celebration of 100 years of Bollywood by bringing to the to some of the greatest singers from the Indian sub continent. Bollywood has come a long way since its first ever film made in 1913. In recent years the international recognition received after Mira Nair's Salaam Bombay! as well as the award-winning Slumdog Millionaire brought popularity of Indian Cinema to the West. However it is the music of the films that is best remembered, and it was with Saregama that most Indian legends began their careers, lending their voices to the mega stars on screen.
To this end, modern yet classically trained singing sensations Roop Kumar Rathod and Sunali Rathod (the voices behind many contemporary hits from Bollywood blockbusters to Ghazals and Sufi songs) will showcase the incredible vocal talents of legends Mohammad Rafi, Lata Mangeshkar, Talat Mahmood and Noor Jehan in what promises to be a musical masterpiece.
The husband and wife duo will travel with eight carefully selected musicians to Birmingham, Leicester and London, taking UK audience on a trip down memory lane in an evening of unforgettable timeless melodies from yesteryear in addition to Roop's own hits from Bollywood.
According to Roop and Sunali, "We are thrilled that Saregama Events are doing this. We are completing 100 years of Indian cinema next year, but if we try to count the names and pay homage to all those responsible it will take another 100 years. So in our own innovative style, we will sing not only our own popular numbers but also gems from the Golden era of cinema."
With a fan following of millions around the globe, the likes of Rafi, Lata, Talat and Noor need little introduction. Nevertheless, Saregama recognizes the importance of showcasing India's classic singers and songs.
"Celebrating the Legends is our grandest project to date and we don't mind being loud and proud about it. We will be honoring some of the sub continent's finest singers and their landmark songs. Roop and Sunali are classically trained musicians and yet commercially successful therefore are the most appropriate choice to pay tribute to these great artists, made especially poignant in the lead up to the 100th anniversary. Roop's silken voice is perfect to do justice to greats like Rafi and Talat, but with a new spin to it, while Sunali's versatile vocals will evoke memories of Lata and Noor at their peak." – Amarpal Singh Gaind (Saregama Head of Operations- Europe)
Wednesday – 05th September 2012
Venue – Symphony Hall, Birmingham
Time – 7:30pm
Tickets: £20 – £65
Box Office: 0121 345 0603
Online Booking: www.thsh.co.uk
Friday – 07th September 2012
Venue – De Montfort Hall, Leicester
Time – 7:30pm
Tickets: £20 – £65
Box Office: 0116 233 3111
Online Booking: www.demontforthall.co.uk
Saturday – 08th September 2012
Venue – HMV Hammersmith Apollo, London
Time – 7:00pm
Tickets: £25 – £75
Box Office: 0843 221 0100/ 0844 844 4748
Online Booking: www.hmvapollo.com , www.ticketmaster.co.uk