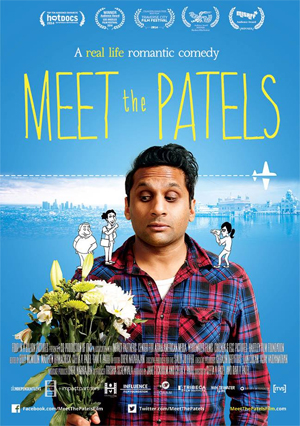 Get Ready to Meet The Patels, a heartwarming documentary that opens in the US today! Releasing in theaters in New York City (AMC Empire 25 and Angelika), Chicago (AMC South Barrington and Music Box), and Los Angeles (Landmark), MTP then releases in many additional cities nationwide on September 18.
Meet The Patels is a laugh-out-loud real life romantic comedy about 30-something Ravi Patel's adventures in dating. Filmed by Ravi's sister, Geeta, and also starring their parents Champa and Vasant, this documentary reveals how love is a family affair.
The film began as a home video on a trip to India and developed into a tale of the journey Ravi goes through as he tries to find love. Fresh out of a breakup with his secret white girlfriend, who his parents knew nothing about, and freaked out that he's almost 30 and single, Ravi, who is willing to do whatever it takes to find love, enters the world of Patel matchmaking. With every moment filmed by his sister, Ravi's parents send him on a whirlwind of dates around the United States via the "bio-dating" system, a chain of weddings, online matrimonial websites, and the "Patel Matrimonial Convention". Does he find love in the end? Well, you will find out when you see the film.
Geeta told us that while they were showing Ravi's experiences they also made the film "because it is about being lonely and looking for love. And even if you are in a relationship you are sometimes still looking for love and trying to figure out how to keep love alive and be happy".
The film has been a hit at many prestigious film festivals, and everywhere it has screened, it has had lines around the theater and cheering when it fades to black. In fact, the film resonates not only with South Asians but also with everyone because at its heart, the film is about family. Ravi told us that it has been a welcome surprise, "It has been something that has been so broadly accepted in a way we did not anticipate. We thought we were making a movie that was very specifically for Indians, but we have sold out every screening in the last year and it was 90% non-Indians. They loved the movie! We are realizing that people are relating to it because this is about love, it is about family. It has been really cool. People from all walks of life have said, 'Oh yeah, this has been my story'. That has been an awesome surprise!"
Early reviews have all been raves and here at BollySpice, we loved the film (read our review here) and highly recommend you go see it when it releases in a theater near you.
The makers are both excited but nervous about the theatrical release. "There is so much support and we have been getting nothing but incredible reviews. It feels like there is nothing but good energy surrounding the film so we feel we have already succeeded but I am nervous," says Ravi.
We have much more from our in-depth, heartfelt and at times really funny conversation with Ravi and Geeta about Meet The Patels so watch this space for more! You don't want to miss it!