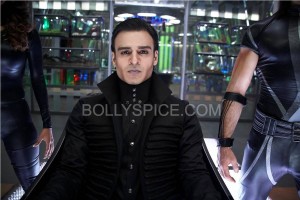 Along with Hrithik Roshan and Priyanka Chopra coming back to the Krrish world, one of the things that has fans in a tizzy is the villain that Krrish will battle in the 3rd installment of the hit movie series. From the first look and the first trailer, Kaal, the villain of the piece, played by Vivek Oberoi, has intrigued fans all over the world. According to the synopsis Kaal, an evil genius, is selfishly misusing his powers to spread fear, death and destruction using an army of very dangerous beings, which he has created. What happens when Krrish crosses paths with the mega evil that is Kaal? Well we can't wait to find out on November 1st.
Rakesh Roshan always had Vivek in mind to play this role. "When I heard that I was so humbled, I was so touched. Wow, for such a senior man, 40 years in the industry, legendary filmmaker to say that… for an actor that is the greatest compliment. That is the greatest fulfillment ki that somebody like him will say Vivek Oberoi will play this incredible character that I am writing. That was huge for me," Vivek revealed in a recent Krrish 3 behind the scenes video interview.
The actor told PTI he jumped at the chance to play Kaal, "I am constantly looking for roles which are new for me and challenging to do. With 'Krrish 3' I jumped at it. I was very impressed with the script and character."
Adding, "It's once in a life time character. He is a super villain and an aristocratic prince of darkness. He hates human race because he is not accepted in the society. His vengeance is so strong that he has created his own universe to fight against them. It's one of the scariest baddies onscreen."
"Bad characters have always attracted every actor and it is so enjoyable to play a negative shade or character," he said in a recent interview. Going on to add, "I am very excited because there is an aristocratic aura around this character. This character is the prince of darkness. He is a supervillain who is the king of his own world."
Vivek did extensive preparation for almost three and a half months for the role of Kaal and in fact created the full character including the look and and how he would get into the skin of the character of this evil man. "It is a tricky character. Rakesh uncle gave me enough space to experiment with my role. It's my interpretation right from its costume to mannerism," he revealed.
Once he had created the character into exactly who he thought he should be, he took a unique approach to show both director Rakesh Roshan and co-star Hrithik Roshan his evil Kaal. Apparently, the actor got in full costume including hair and makeup and then in a wheelchair went to the Roshan's house. It took no longer than 5 seconds for them to say Perfect! and seal the deal.
He says the role is difficult on so many levels, "The challenges were physical, the challenges from the emotional aspect of the character, to the performance, to the thinking, to the ideology, it is such a complex character. It is not flat to play. It is a very twisted character."
Now here's something you may not know, the very first shot of the film ever canned was one of Vivek's and he says he was 'super nervous': "I didn't sleep the night before and went to the set without my breakfast. I kept thinking how it would be. When I gave the first shot the whole unit applauded. Then Rakesh uncle came over and hugged me. It was such a good feeling. Then Hrithik came to me and said Man, I am so glad you are doing this role. This is what we wanted."
The actor cannot wait for fans to see the film, "I am a big Rakesh Roshan Fan. I Loved Koi Mil Gaya, Freaked out at Krrish so I am sooooooooooooooo excited about Krrish 3! I am lucky to be a part of Krrish 3. I am extremely, extremely excited."