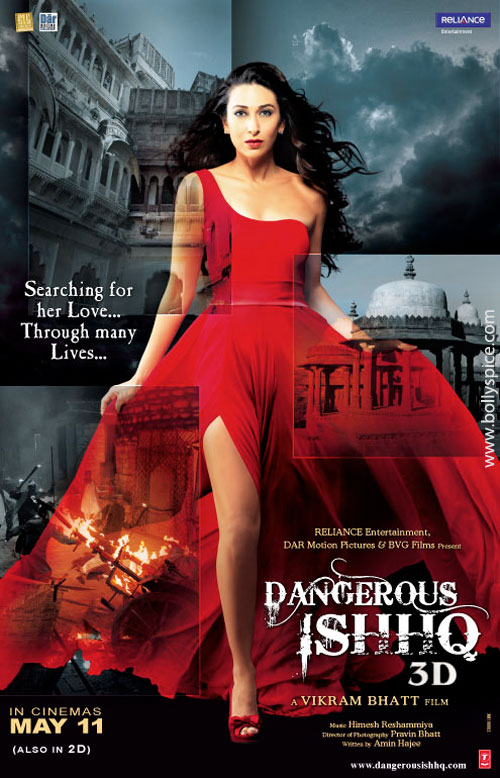 After a hiatus from the silver screen, India's favourite leading lady and multi-award winning actress Karisma Kapoor is set to make her stunning return on the big screen in Dangerous Ishhq, being released by Reliance Entertainment on 11th May 2012.
Over the decades, Indian cinema has evolved leaps and bounds, namely with a rise in actresses taking centre stage as the "female hero". Blazing this trail is Karisma Kapoor, who with such critically acclaimed films as Zubeidaa, Fiza, and Shakti: The Power, set the stage for strong female portrayals, delivering some of the most memorable, emotive and poignant performances.
Now, Indian cinema's modern female heroine makes her long anticipated comeback delivering an enigmatic, powerful and dramatic performance in Dangerous Ishhq, solidifying her status as Hindi cinema's most sought-after actress.
The film also stars Jimmy Shergill, Rajniesh Duggall, and Divya Dutta with music from Himesh Reshammiya.
Dangerous Ishhq, a thriller that impacts with mystery, suspense and deception, is directed by acclaimed director Vikram Bhatt, who in 2010 wowed cinema audiences the world-over when he pioneered the stereoscopic 3D film genre in India with his hit film Haunted – 3D.
Synopsis
Rohan (Rajneesh Duggal), son of one of the nation's foremost business tycoons and supermodel Sanjana (Karisma Kapoor) have been one of the most popular couples in the social circuit. When Sanjana decides against flying to Paris at the last minute- for a lucrative modeling assignment, she does so, not just because she cannot bear to stay away from her boyfriend Rohan, but more importantly because her instincts push her against going. But what her instincts cannot do, is stop Rohan from getting kidnapped.
The high profile kidnapping creates chaos in Sanjana's life. The kidnappers demand INR 50 crores. The Police however believe that even paying the ransom will not bring Rohan back. Time is of utmost essence. Death stares Rohan in the eye. It is in this extreme trauma that Sanjana discovers something extraordinary. She sees visions of them together- sometime in the past- in different eras.
She is confused initially but in her visions lay definitive clues that could lead her to save the love of her life. As she follows clue after clue she gets closer and sometimes further away from the love that has been eluding her through the ages.
An enticing 3D suspense thriller, Dangerous Ishhq is Sanjana's tryst with Destiny. Would she be able to unravel the past to save her future? Would she be able to rescue her love and expose his true captors?
Character Sketches
Sanjana Seksena  (Karisma Kapoor) is a super model in Mumbai. She has graced many cover pages and has been the face of many top brands in the past. She has got to the top without compromising or taking any shortcuts. She has just been chosen as the 'Face of Global Fusion' and is set to leave for Paris where she will spend a year doing fashion shows & shoots for various international brands. She is a strong willed fun loving girl & is head over heels in love with Industrialist Rohan Thakral. They are engaged to be married.
Rohan Thakral (Rajniesh Duggall) is the handsome son of the self made but arrogant Industrialist Mr. Thakral. Rohan is a man of principals- he runs the show honestly & diligently. He was the most eligible bachelor before he met & fell madly in love with Sanjanna. He is a warm & compassionate person & he loves Sanjanna  and wants her to achieve her dreams.
Dr. Neeta (Divya Dutta) is a general practitioner. She practices in one of the top hospitals & is affectionately called Neetu by everyone. She is Sanjanna's best friend since school and despite having busy schedules herself, she goes out of her way and attends most of Sanjanna's fashion shows and shoots.
ACP Singh (Jimmy Shergil) is a top cop who has solved many complex crimes in his tenure so far. He is respected by his seniors, colleagues by even by criminals, for his honest and sharp nature. Despite his success he never takes any case lightly & still balances and keeps space for human emotions.
Rahul Thakral (Ruslan) is two years younger than Rohan and he works along with his Dad and Rohan in their multi-million company. Rahul is smart, hard-working and ambitious.  The brothers hang out together and Rahul is very happy that Sanjanna and Rohan are happy together.
httpvh://youtu.be/Ixy0QW8Ysek