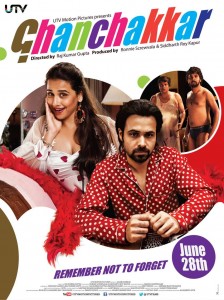 Ghanchakkar had so much going for it. The oddly interesting pair of Vidya Balan and Emraan Hashmi. A genuinely hatke plot. A lot of potential for a pacy thriller with comic elements. And yet, it ends up as flat as cola without the fizz.
Sanjay (Emraan) is a professional safecracker who wants to give up his ways and settle down in life with his over the top, fashionably challenged wife Neetu (Vidya). However, when he is offered a too-good-to-refuse deal by the goon duo Pandit (Rajesh Sharma) and Agreece (Namit Das), he decides to take it up as his last job. The robbery is successful and Sanjay is entrusted with the loot for three months till matters cool down. Unfortunately, Sanjay meets with an accident and forgets where he hid the loot. Then his co-conspirators come calling for their share.
Ghanchakkar starts off very well. The characters and their quirks are established quickly. The robbery sequence is simply brilliant with the three robbers wearing celebrity masks with three distinct expressions. Then comes the twist of Sanjay's amnesia and we settle down for a merry ride with these four madcap characters. Which never comes. Because midway into the first half, the writers ran out of story. From then on the film depends on the antics of its main characters without giving them the right screenplay to work on – as a result of which their mildly amusing quirks soon turn irritating.
When a film depends so much on its central characters, it is important that they share a good chemistry between them. While the slimy Pandit and trigger-happy Agreece complement each other well, the same can't be said of the lead couple. A big part of the blame lies with Vidya's portrayal of the loud Punjabi housewife. It is a disappointing performance from the otherwise competent actor. Emraan, on the other hand, emerges as a strong performer but even he is not able to save what turns into a totally different film in the climax.
If only director Rajkumar Gupta had followed through with the wonderful build-up in the first 45 minutes, this could have been a path breaking film. However, with neither the comic nor the thriller elements living up to their promise, Ghanchakkar ends up as a frustrating film. Quite tragic since it had the potential to be so much more.