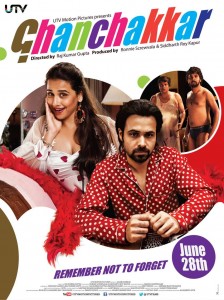 Following the overwhelming success of her last film Kahaani (2012), Vidya Balan is back to bring us more entertainment in Rajkumar Gupta's Ghanchakkar. Starring Emraan Hashmi and Rajesh Sharma as well, it is a comedy thriller based on a man suffering from amnesia and can't remember that he was part of a bank robbery with other associates. The film promises to be a roller coaster experience and will release in cinemas on 28 June 2013. The music to Ghanchakar has been composed by Amit Trivedi, who was the mastermind behind soundtracks such as Kai Po Che (2013) and English Vinglish (2012). The lyrics have been penned by Amitabh Bhattacharya, who recently wrote the lyrics to Yeh Jawaani Hai Deewani and also worked previously with Tridevi for soundtracks like Ek Main Aur Ekk Tu (2012). So does the music to Ghanchakkar live up to expectations? Read on to check out our verdict!
The first track is Ghanchakkar Babu, which is sung by the film's composer Amit Trivedi. The music has a hip-hop feel to it ala beats you may hear in a Jay-Z or Kanye West song. The lyrics are, to some extent, full of gibberish which you may find tough to interpret. As for the song itself, I consider it to be average overall and do not think it will become a popular hit with the masses; despite the fact that it has been widely used as part of the film's promos. There is also a Remix version of this song in the album which has been composed by Tanuj Tiku and Aftab Khan. I honestly do not understand why film producers consider it to be vital to include remixes in a soundtrack. This one is just like the many other Bollywood remixes I have heard in the past. It is lacklustre and has not long-lasting appeal to it at all. Thus, if I had to choose between both versions then by all means; I would go with the original version.
Next up is Lazy Lad, which has been performed by Richa Sharma. The music has a range of instruments such as the guitar, drums as well as some bass. However, sadly the song does not work and I found it to some extent excruciating to listen to. It feels like a song I would hear in a children's television show since it is a little immature in terms of content. Trust me when I say that you should definitely give this song a miss. You'll be saving your ears from a really silly song.
Following this we have Allah Meherbaan, which is sung by Divya Kumar. The song has good vocals and a nice beat to it which is very catchy and refreshing to listen to. I consider this one to be the best track in the album, as it is very unique and well-composed. There are nice contemporary, as well as Sufi elements to the song, with the inclusion of bass also. If you are going to listen to the entire album of Ghanchakkar, then I strongly recommend that you check out 'Allah Meherbaan' first and foremost!
Finally we have Jholu Ram, performed by Altaf Raja. I found this song to be unfulfilling overall and it does not have any magic to it at all. The vocals are average and the music could have been a lot better and engaging to listen to, had more thought been put into its composition. Therefore, don't waste your time on this one as it has not charm to it whatsoever.
To sum up, I honestly had high hopes for the music to Ghanchakkar, given that Amit Trivedi was behind the project. However, after having heard the entire album in full, I can conclude that this is one of his weakest albums and I was very disappointed with it overall. Given that Bollywood's first female hero Vidya Balan is headlining Ghanchakkar, I really do hope that the film is just as good as its music. We will just have to wait until 28 June to find out!