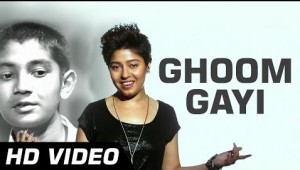 The makers of Hawaa Hawaai have released the video of their new song titled 'Ghoom Gayi' featuring the gorgeous singer Sunidhi Chauhan. The song talks about how Arjun's world changed ever since he dared to dream and how it strengthened his bond with his friends and family.
The video with its upbeat and foot tapping music shows Sunidhi Chauhan singing the high energy track. Sunidhi uplifts this song with her distinctive vocals and is featured in the video with Saqib Saleem, Partho Gupte and the rest of the kids playing musical instruments in their band called Jugaad Jam. The video also features composer Hitesh Sonik & marks the first time that the husband-wife duo of Sunidhi & Hitesh have appeared on screen together. Amole Gupte has composed the lyrics for this lively track.
Hawaa Hawaai is the story of the remarkable journey of a poor boy 'Arjun', rich with dreams, as he tries to achieve his goal of becoming a champion Inline skater. The movie stars Partho Gupte as 'Arjun', an in-line skater and Saqib Saleem, as his coach. Presented by Fox Star Studios and written, produced and directed by Amole Gupte, the film is slated to release on 9th May, 2014, and is touted to be the first film on in-line skating in the world.
Enjoy!