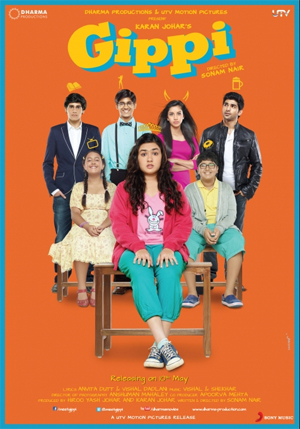 Gippi, the forthcoming teen comedy from Dharma Productions, hits the screen 10 May 2013. It stars a handful of new faces and has a debutant director, Sonam Nair, at its helm. Gippi features the music of Vishal Dadlani & Shekhar Ravjiani, returning after yet another successful collaboration with Dharma, Student of the Year, previously Dostana and I Hate Luv Stories. The soundtrack features the lyrical talents of Anvita Dutt and Vishal Dadlani the vocal talents of Udit Narayan (He needs no introduction but for completion's sake, Radha – Student of the Year & Gun Guna Re – Agneepath), Sukwinder Singh (similarly, no introduction needed, regardless, Matru Ki Bijlee ka Mandola – title track), Neeti Mohan (Ishq Wala Love – Student of the Year and Jiya Re – Jab Tak Hai Jaan), Hard Kaur (Patiala House – title track) and the directorial duo themselves, Dadlani and Ravjiani.
The album starts with Baby Doll, and is a folk-y desi number that gives off an item number kind of vibe. The Hinglish, off-beat and humorous lyrics are the track's main attraction and veterans Udit Narayan and Sukhwinder Singh do not leave any nuance unexpressed. Musically, the enthusiastic blend of desi and contemporary is impressive. It has a familiar and catchy tune and therefore one can easily start humming it after listening to it once. With a fun and engaging picturization, Baby Doll, may find more takers but on its own it is not unlike other mass desi numbers preceding it.
Behn Ki Takki is techno club number that is fun all over despite being another Punjabi track amongst the millions already out there. It suffers from a serious Student of the Year hangover in that it sounds like a blend of Vele, Kukkad and Disco Deewane, but manages to be entertaining regardless, possibly because it's a combination of three good numbers. Vishal Dadlani brilliantly delivers the track and is somewhat unrecognizable, given his authentic Punjabi rendition. Lyrically, like Vele and Kukkad, the track sports a clever blend of Punjabi and English lyrics that is impressive from the word go. Behn Ki Takki is on the fast track to become a crowd favourite.
Shekhar Ravjiani's Mann Bawra is easily Gippi's crowning glory. If you have loved Ravjini's renditions in the past such as Khudaya from Shanghai, it would hardly take a nanosecond to fall in love with Mann Bawra. The music, words and vocals have a heartfelt honesty about them and its musically and lyrically brilliant.
The sweet and melodious Dil Kaagzi is an instant work of art. Neeti Mohan renders the track beautifully. It has a waltz-like quality and is very easy on the ears. Lyrics are equally well penned. It is definitely one of the better tracks of the album.
The last track, We Are Like This Only, simply put is the Papu-Can't-Dance-Saala to Gippi's Jaane-Tu-Ya-Jaane-Na. It's reasonably loud and silly whilst being cute and unapologetic. Vishal Dadlani and Hard Kaur make a fun pair and embody this party track perfectly while complimenting each other well. Lyrically, it has the hallmarks of a teen party anthem, that is, witty prose rife with a devil may care attitude. The pockets of pseudo-rap, if you will, are initially off putting but Dadlani and Kaur render it convincingly and therefore does not stop one from enjoying the track. That being said, while We Are Like This Only is a decent listen, it is fairly unremarkable in that it has little to nothing new to offer.
In summary, given its promos, posters and such, one expected Gippi to feature fun, loud and crazy numbers like Baby Doll, Behn Di Takki and We Are Like This Only and predictably it does not disappoint but it does not overly impress either. However, the unexpected subtle beauty of Mann Bawra and Dil Kaagzi pushes the album beyond the realm of mediocrity. Either way, like all Vishal-Shekhar creations, it is a soundtrack worth listening to.