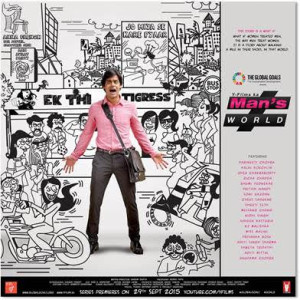 Y Films, the youth division of Yash Raj Films, India's leading movie studio, premeired the biggest multi-starrer series on the internet, Man's World, on YouTube, in support of the Global Goals campaign.
The series, which has been created to promote Goal 5: Gender Equality of the new Global Goals for Sustainable Development, features some of the biggest influencers associated with the cause of achieving Gender Equality like Parineeti Chopra, Kalki Koechlin, Richa Chadda, Soni Razdan, Pritish Nandy, Rhea Chakraborty, Bhumi Pednekar, Miss Malini, Cyrus Sahukar, Shweta Tripathi, Priyanka Bose, Anupama Chopra, Aditi Mittal, Nidhi Singh, Naveen Kasturia, Meiyang Chang, Aditi Singh Sharma and RJ Malishka.
Man's World, a comedy, is a "what if?". What if women treated men, the way men treat women? It is a story about walking a mile in their shoes, in that world. The lead protagonist of the series, Kiran, is a man who believes the world is unfair to men, and soon finds out how unequal, uncomfortable and unfair the treatment to women really was, when he faces gender discrimination as a man in a world that gets 'flipped'. Kiran is played by Gaurav Pandey, who is being launched by YRF in the series. The series is written and directed by Vikram Gupta, who earlier directed Ching's 'Hunger Ki Bajao' campaign TVCs, starring Ranveer Singh and produced by YRF.
YRF has been working closely with Richard Curtis, the writer-director of iconic films such as Four Weddings and a Funeral, Notting Hill and Love Actually, and his team at Project everyone, to create this series, to promote Goal 5 of the Global Goals campaign. The aim of Goal 5 is to 'Achieve gender equality and empower all girls and women, everywhere'. Prime Minister Narendra and 192 other world leaders signed the new Global Goals for Sustainable Development on Friday 25th September at the United Nations General Assembly.
Says Parineeti Chopra, "YRF has always been ahead of its time. It was only natural that if the UN did something in India, YRF would be involved in it. I hope this series brings a positive change in everybody's life."
Says Pritish Nandy, "The crux of the matter is that you and I and all of us must practise gender equality all the time in every context without talking too much about it. It's something that must exist in your life as a matter of fact."
Says Kalki Koechlin, "It's fantastic that YRF is working in collaboration with the UN. I really hope the series picks up and people become more conscious about inequality."
Says Richa Chadda, "It's a really nice initiative and the script is great fun too. What's been great to see is that the men associated with the project are also reevaluating themselves. Because feminism isn't necessarily about hey women we are better than men , it's the notion that we are created equal."
YRF Vice President, Ashish Patil says, "Big shout outs & big love to all the fantastic people who've come on board and helped turn our first series, Man's World, into the biggest multistarrer ever on the internet! They've all brought in an incredible energy and their own experiences into getting this very important message on gender equality out there to as many people as possible, making Man's World truly special. We're hoping our viewers enjoy watching it as much as we did making it."
Filmmaker Richard Curtis says, "Yash Raj decided to develop a web series to shine a spotlight on The Global Goals through the lens of the Gender Equality Goal. The series they have created explores the trials and tribulations that women encounter in every day society in India, in a fresh and thought-provoking way.
Our catchphrase is: 'You can't fight for your rights if you don't know what they are'. Yash Raj are helping to make millions of young people in India aware of their rights. We hope audiences are both entertained and engaged by this series, and feel empowered by the potential we all have to change the world for the better."
In India, the Global Goals campaign is being supported by various NGOs, media houses, organisations and corporates including Reliance Group, the first Global Goals Campaign Partner from India, Tata Group, eBay India, Confederation of Indian Industry, Hello! India Magazine, Yash Raj Films, Magic Bus and Akshaya Patra.
Check out episode 1 & 2 right here!