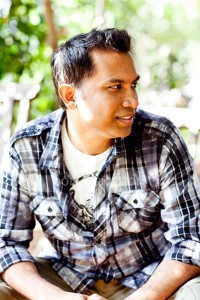 Raj Nidimoru and Krishna DK have been trailblazers for quite a while on the film scene. Widening the scope of the crossover market with their debut Flavours, to their sleeper hit with Shor in the City, the duo are now taking up the zombie film and their most genre-oriented film to date with Go Goa Gone. Following three slackers on their journey for the best party in Goa, and throwing zombies and the gun-toting Boris into the mix, Go Goa Gone looks to be a hilarious ride. The film is produced by Saif Ali Khan's Illuminati Films and stars Kunal Khemu, Vir Das, Anand Tiwari, Puja Gupta, and Khan as the wacky Russian, Boris. We caught up with Raj, who took the time out from editing, and promotions to chat about his and DK's creative process, the zombie genre, and the music.
What made you and DK come up with the zombie idea? Was this something that was gestating in your minds for a while?
Yeah, it's been with us for a while, this film. I was living in Detroit and I saw the zombie subculture there, in terms of zombie walks and so many of those, along with small films being made. But, I wasn't finding the edge, I wasn't really excited. I mean, I liked the idea but I didn't know what I'd be doing differently. So I wasn't really excited by it till we married another idea that was a comedy about the slacker generation, about how we see the youngsters in Bombay. Then that came about and beyond a point it was just that idea. I guess both of them fell together in one film where slacker generation guys go and land up in an island full of zombies.
Do you think the Indian audiences may be apprehensive but also receptive to this concept?
Really most of the audience aren't well versed with zombies in the first place, so a pure zombie film I don't know how receptive people are going to be or how alien it's going to sound. It's like making a Star Trek out of nowhere. The idea was that we have been making our own kind of comedy for all our films so far, the idea was really to make our brand of humour in a horror setup more than anything else. And that freshness and humour was really grabbing, because we are dealing with a completely alien object: a zombie! So that kinda of increased the humour quotient for the film, I look at it more as a funny film, a comedy with a fresh subject.
How did you balance the humour in this film? Instead of going for a straight horror film with zombies?
It's just in taking two very strong genres, that don't usually mix, horror and comedy, that's the idea that appealed more. Just like in Shor in the City, where it's a gritty film about the city where humour doesn't work really, it becomes a hardcore gritty drama. So we wanted to take it still gritty drama with large doses of dark humour that's how we tried to make it balance.
Did you guys have a lot fun with the tropes that come with the zombie genre, like the big shootout or finding the hideout, or did you aim to deconstruct these aspects?
The basic idea in this film is that the template of the genre sets you up to play with it and also knowing the clichés of a horror film gives you fodder to play with. At the core of it, it does follow the original horror concept of three guys going off to a forest/island/location, overnights things are going bad and then a guy comes to their rescue, ending in a shootout. The whole idea was to deliberately pick it, because we've never really followed that pattern so far in Flavours, 99, and Shor. But this we wanted to make as a genre film, but the extra things are the layers. The obvious layer of it being a zombie comedy but take a dig at the slacker generation who lack complete survival skills or they are into their own iPhones and Samsung mobiles, and are not exposed to the world really. So if you take them out into the forest and give them zombies, what happens?
How did the stoner vibe evolve into the film?
The slacker generation or the stoner thing is something we had for maybe 2 or 3 years, about these guys in a shared apartment who don't really feel any responsibilities whatsoever and basically stoned and lazy. They're living in an apartment where the electricity has gone a week ago, and nobody is willing to go pay for it. So it started off there, but we wanted an edge, and then we found this older ideas of zombies that we had. Except they would be going to look for a party!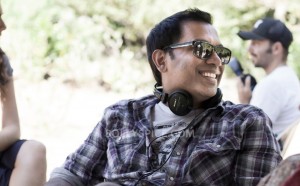 Did the setting of Goa help to establish that vibe?
More than the stoner aspect, I thought that everybody living in Bombay wants to take off to Goa. So it's that thing that of people who have a couple of days will get in their cars, trains, or take a flight to Goa whether if you're a stoner or a party guy to just have some fun, or quiet time. It goes for everything, and so that was a destination where it gave us that little paradise away from Bombay.
Since this is the first major zombie film after Luke Kenny's Rise of the Zombie there's bound to be a few comparisons to Shaun of the Dead or The Walking Dead, did you look to any Hollywood films for a bit of inspiration?
Right, there's almost always an automatic reaction to a film as soon as you put it out there. There's always a bunch of guys who'll say, "It's a copy of Shaun of the Dead, it's a copy of Zombieland, it's a copy of The Walking Dead." So, you know, we have been taking pride in saying all of our films are pretty original, we've always written our own things. One thing we don't want to do is commit hara-kiri by taking in or copying any zombie films. the main idea is that zombies are definitely not Indian concepts, it is an influence; it is a borrowed concept from the Western world and the whole idea is to get a Western object like a zombie and put it on Indian soils and see how the characters react to it. So yes, I've seen all these films and made sure that we don't cross paths and look inspired, in the Bollywood sense. But, we did take a nod towards these films that we liked in the zombie series, and there's at least 5-6 films we take a nod at in our films. Nobody would really notice it, but it's for the hardcore fans out there.
So, what went into the casting process? Especially Saif as this zany character Boris?
We needed an actor who would have that ability to come and play an exaggeratedly macho role of a gun-toting Russian mobster kind of thing, with that blonde hair and when the times comes he snaps out of it to show that he's a Delhi Chopra! The balance of machoismo and quirky sense of humour is the core of the Boris character, and we couldn't think of anyone but Saif!
You're also working with Kunal Khemu again; did you have him in mind earlier on?
Kunal we've been wanting to work with him for a while, so he was in talks with us, and we were in talks with him. So we always said let's do another film, he was going to be one of the slackers in the slacker film but we didn't have a script. So he was there, kind of on from the beginning that we should do another film with him, then came Saif then came Vir, and then Anand Tiwari.
You guys are also known for choosing actors from a theatre background, how did Anand's casting come about?
Right, well we've been kind of addicted to looking for somebody fresh most of the time and we think theatre is a great source. Like in 99, we found Amit Mistry, and Shor in the City, we found Pitobash and a host of others like Radhika Apte. In this film, I thought the great discovery was Anand Tiwari.
Vir Das said in his interview with us that there was some room for improv, how did that work on set in letting the actors play around the script?
Yeah, we always believe in a strong bound script, so we're going into shoot that one particular scene and that particular number of pages. But, once you go there the homework is done for them in those pages for the direction team and everybody. Once we go there, we pretty much shoot what we want and then we start to experiment within the boundaries of that scene we start to do a little improve. Whenever they want to try something new we encourage them, sometimes we push them, and take what we want. Or they give us 10 different options, only one works but as directors we take that call to what works and what doesn't, but it's great fun when the actor can do than what was rehearsed and they came for.
What excites you about the filmmaking process since your earlier indie films in the US to the success of your ventures in Bollywood?
I think it's really the creative satisfaction in doing something that I still feel wasn't even planned in my life. Right, I've wasted a whole lot of years on engineering, with my Masters, some 6-7 years of hardcore machines, and then a few years in corporate work with further consulting and traveling and all that stuff. At least 10-12 years I spent on that, but it was the really monotony that drove us, me and DK, to do something more, because that wasn't helping. It wasn't giving us the level of satisfaction that you get from a job. So I think most of that monotony in that job gave fodder for lots of small ideas in all our films, which somebody pointed out to us weeks ago that if features in our films one way or another, like maybe in a character or a plot point that hint at it. That's what I was saying that I was feeling like a zombie when I was working.
How does your bond for you and DK work as writers and directors? Is there a workable balance that you guys can achieve?
There's no method or systematic structure to it, basically DK and me, and Sita Menon usually are behind every film, and we form the core creative group that comes up with ideas, develops scripts, and then goes through the filmmaking process together. She [Sita] kinda remains behind-the-scenes but she is the creative director on these films, so she handles everything else. So we formed a balance, but we didn't sit down and form a balance. It just works out everytime, we just write it in a messy way initially because it's just ideas from all over the place, and then it forms a cohesive whole as we go towards the film.
You're working with Sachin and Jigar, and this album is so whacky and hilarious, did you give them any pointers or directions in approaching the songs?
Yeah, we wanted to go for a completely whacky soundtrack without worrying 'will this work' or 'will this be an item number' and all that stuff, so we just went for a whacky film. we sat down for a long time and we found great partners in Sachin and Jigar after Shor in the City. We found that we could push them to get what we wanted and when they gave it, it exceeded our expectations so it was a nice back and forth. For this film, I had given them a clear ideas about what each song is about so we had a nice seed of an idea for these songs. Once it is defined, Sachin and Jigar, or any composer for that matter, revel in the fact that there is that defined structure to it, and then they just go bonkers with it! they have a great team between them of Sachin, Jigar, and Priya and they come up with great lines and tunes and we have the freedom to sit with them, to go back and forth to find what we need. It is a big collaborative effort; it's almost like an extension of our own team with Sachin, Jigar, and Priya.
Any favourite song on the album? Babaji ki Booti is definitely the funniest one.
Yeah, I like the 'Babaji ki Booti' one, a little more than others, because we all sang together! Some seven of us sang, DK, me, Sachin, Jigar, Priya, Kunal, and Anand; we had a great time doing it. I think it's a very well-produced song.
With songs, how do you see the rise of sync-songs used more in the background? Is there still a place for lip-sync songs in cinema?
Well, the 'Khoon Choos Le' is not in the film, so it gives us the freedom in making a music video that doesn't go in the film. It's giving filmmakers like us the freedom to keep the core of the film intact in theatres, and that play around with these music videos that most of the viewers like and enjoy, unlike a collage thrown at them every time. So I have come to realize after a couple of films that we should cool music videos every time and not worry about destroying the fibre of the main film.
Are you guys hopefully going to be doing a more romantic comedy like Flavours, which you started off with?
Well, our next film with be a romantic comedy. Finally we're going to a romantic comedy, which I call slice-of-life film, which does have romantic comedy bits in it. We're going out with a full romcom and one in that genre we promised ourselves, which is going to be our next film. You know I would love to do another film in the US, for the Indian-American and NRI audience, I just hope the market evolves a little more that it supports a film like that.
Definitely, Flavours was one of the first of its kind, do you think the crossover market has evolved since that time?
I doubt it; I think it's kind of gone down actually, which is sad according to me, because it hasn't evolved at all. It has just taken refuge in the Bollywood and Hollywood films really, so I don't see many indie films coming out of it. I see the whole indie revolution with Flavours, and American Desi, ABCD or the four five films that came and that was that. I don't see it, I mean there might have been smaller films, but they didn't catch the global attention or Indian attention. I don't know it's kinda sad, I think I have to blame it on the market. The whole business cycle, I think it's very hard to recover money and the audience where there's not enough patrons to support films like that.
We're approaching the 100 years of Indian cinema; do you think this film might get its dues later on as one of the first zomcoms of our time?
I didn't think of it (laughs) yeah that would be great for this film to find its place as one of the first horror comedies, or something that bent genres or cool stuff like that. That would be nice, but we didn't think of that!
Stay tuned we have an exclusive with Vir Das coming up soon!