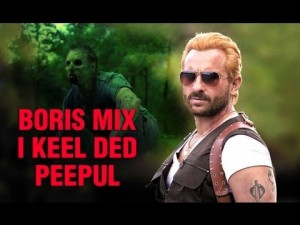 Go Goa Gone, India's first-of-its-kind zom-com has certainly struck the right chord with the audience. The comic timing and the quirky dialogues have left the fans in splits.
Keeping in mind the growing popularity of the dialogues of the film, the makers have launched an additional song. The song titled 'I Keel Ded Peepul (Boris Mix)' is a dub step number with rib-tickling dialogues from the film. Mixed with techno beats and rock music, the new track is definitely a genre never been heard before in Bollywood.
The music of Go Goa Gone has been composed by Sachin-Jigar. All the other songs from the movie like 'Slowly Slowly', 'Khoon Choosle' and 'Babaji Ki Booty' are already topping the music charts across the nation and 'I Keel Ded Peepul' is soon to catch up!
Produced by Illuminati Films and Eros International, Go Goa Gone released on 10th May and is running successfully in cinemas.